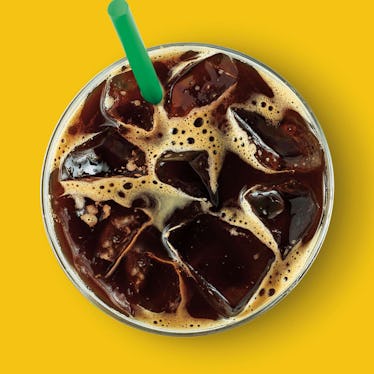 This New Starbucks Drink Is Strong AF, Just In Time For Daylight Savings
Starbucks
Daylight Saving Time is kind of like waking up an hour early to go to the gym before work... except it's not my choice, and I can't just put it off until later. The dreaded day, where all of us earthlings will sadly lose an hour of sleep, is coming up on March 11 — and TBH, I just want it to be over already. I know I'll be tired, I won't be in the mood for anyone's BS, and I'll need about eight coffee breaks, minimum, just to survive the day. But Starbucks' Grande Iced Blonde Quad Caffe Americano has arrived just in time for Daylight Saving Time, and it might be the gift from above that'll literally save me.
If your ears immediately perked up at the sound of a Grande Iced Blonde Quad Caffe, I'm totally with you. Not only does it sound like the caffeine boost that'll make my freaking day, but it also sounds completely and utterly divine. According to a press release sent to Elite Daily by Starbucks, the highly desirable beverage is going to include shots of Blonde Espresso, which are topped with water to produce a light layer of crema. That's all topped with a healthy handful of ice. It's super simple, it sounds beyond refreshing and super sweet... and it'll most definitely keep my eyes open for the entire day. Just one coffee break might actually suffice this Daylight Saving Time. The drink is now available in Starbucks stores, just in time for March 11. Definitely count me in.
If the Blonde Espresso isn't really your thang, though, Starbucks has introduced a number of other amazing drinks to kick off spring, in the form of macchiatos. First, make sure to checkout the Hazelnut Mocha Coconutmilk Macchiato, which combines coconut milk, Starbucks' signature espresso roast, and hazelnut flavoring. It's basically Nutella in the form of a to-go drink, and I'm definitely not mad about it. The other macchiato is known as the Cinnamon Almondmilk Macchiato, which is supposed to taste like horchata, if you've ever checked out the deliciously sweet Latin American delicacy. Both macchiato variations definitely make way for some caffeinated fun, and I'm all for it.
Since everyone also loves a good frappuccino, Starbucks Australia just came out with the Carmel Popcorn Pretzel Frappuccino — and TBH, I've never heard of anything more delicious in my entire life. The notoriously delicious drank combines Starbucks Australia's signature Pop'zel syrup, (which somehow combines the tastes of popcorn and pretzels in a syrupy concoction, I guess), and it's added to actual chunks of caramel popcorn and pretzels, with a decadent topping of whip and caramel drizzle. Am I dreaming? Or dead? This sounds unreal, and I need to get my hands on one ASAP.
Depending on how much of it you're trying to soak up, you can get it in the form of a Tall, Grande, and Venti, and all of you probably can probably imagine that I am internationally ordering three Venti's on my Starbucks app, as we speak. IDK about you, but I'm already looking at Australian Airlines flights. It'll be worth the international trek, I swear (even though it's only available for a limited time).
I know Daylight Saving Time in March means longer days, more sunlight, and so on... but I'm still not entirely OK with it, by any means. I am, however, thanking the coffee gods — aka Starbies — at this moment in time for this massive innovation, and I'm super stoked to try out the new spring drinks, as well as the ever-elusive Caramel Popcorn Pretzel Frappuccino (if I get to Australia in time for it).