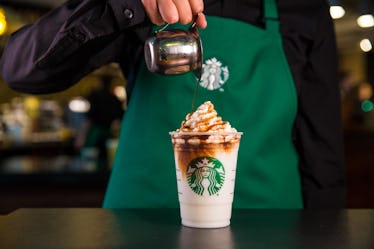 Get Your Black Friday Caffeine Fix With BOGO Frappuccinos During Starbucks' Happy Hour
STARBUCKS
Thanksgiving might be the OG day of thanks, but I'm feeling pretty thankful about all the Black Friday deals on food and drink that can be had on Nov. 23. Caffeine is essential when powering through all the deals on electronics, clothes, and home goods, and the coffee extraordinaires at Starbucks are really sweetening the savings this year. TBH, Starbucks' Black Friday 2018 Happy Hour deal starting at 3 p.m. will be a total life-saver if you're looking for a pick-me-up after hours of retail therapy. Plus, who can say no to BOGO Frapps?
IMHO, the company's weekly Happy Hour has been a 2018 blessing, and I'm feeling extra grateful for the company's decision to help us out with some BOGO brews on Friday, Nov. 23. For the Black Friday Happy Hour deal, you can head into any Starbucks location starting at 3 p.m. and with your purchase of a handcrafted espresso beverage or Frappuccino blended beverage in size Grande or Venti, you can walk out with another one of those bad boys completely on the house. In other words, you're getting two of Starbucks' tasty sips for the price of one, which officially makes it the Black Friday deal of my dreams. There's just one catch: Like all of Starbucks' Happy Hour deals, you have to be a Starbucks Reward Member or sign up to receive notifications on the company's Happy Hour deals to get in on the savings. Luckily, it's really easy, and if you're a frequent Starbucks customer, it's well worth it.
Once you sign up, you'll receive emails on when Starbucks' Happy Hour is happening as well as what sips will be on sale. Simply show the message to your Starbucks barista, and voila, you can walk out of Sbux double-fisting two Frapps. Black Friday's Happy Hour deal is especially great because it includes Starbucks' new lineup of holiday drinks like the Peppermint Mocha, Toasted White Chocolate Mocha, Chestnut Praline Latte, Caramel Brulée Latte, Gingerbread Latte, and Egg Nog Latte.
Whether you decide to treat yourself by grabbing two of these festive sips for the road (let's be real, you'll definitely be in the need for major caffeine therapy after the craziness that is Black Friday) or go halfsies with bae, you won't have to worry about your holiday brews cutting into your Black Friday fund.
In addition to Starbucks' Happy Hour deal, the company is also helping its customers bless up all January-long with free Grande teas and coffees. With the purchase of a stainless steel 16-ounce refillable tumbler, which costs $40 and first launched for sale on Tuesday, Nov. 20, you can head to your closest Sbux anytime from New Year's Day through Jan. 31, 2019 to claim a free Grande brew. If your daily Starbucks habit has been making some serious dents in your bank account, the reusable tumbler should save you about $25.10 during the first month of the new year. Unfortunately, the reusable 16-ounce cups are only available "while supplies last," so I'd make sure to grab one while you're enjoying your BOGO Frapp deal come Friday.