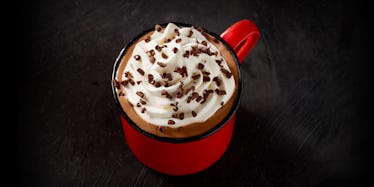 You Can Get Half Off Your Peppermint Mocha At Starbucks Today For A Festive Sip
Starbucks
You guys, Starbucks is *finally* back with their amazing Happy Hour deal. Starbucks took a brief hiatus from offering any Happy Hour drinks. It's been several weeks since the last Starbucks Happy Hour took place. (Happy Hour is typically a weekly thing, sometimes every two weeks, and takes place on a Thursday or Friday.) I'm so glad it's back because this week's offer includes all of my favorite drinks. Starbucks' Nov. 8 Happy Hour will get you half off your favorite espresso drink, so get ready to order up.
During the Nov. 8 Happy Hour, Starbucks is offering 50 percent off espresso-based drinks. The offer is only valid on size grande drinks or larger, so make sure you don't accidentally order a tall. The Happy Hour deal includes Starbucks' recently-released lineup of holiday drinks like the Peppermint Mocha, Toasted White Chocolate Mocha, Chestnut Praline Latte, Caramel Brulée Latte, Gingerbread Latte, and Egg Nog Latte. No matter what you order during Happy Hour, your drink will be served in a festive holiday cup. (Even Starbucks' iced drinks are served in cheerful plastic cups with a holiday design.)
Happy Hour kicks off at 3 p.m. local time today. Set your reminders now, because Starbucks' Happy Hour is the perfect afternoon pick-me-up. The offer is redeemable at participating Starbucks locations nationwide. If you aren't already on the list, it's time to change. Hurry up and head over the to Starbucks Happy Hour website. You can sign up now and still gain access to the Nov. 8 espresso deal.
If you are already a Starbucks Rewards Member, today's Happy Hour deal has been preloaded to your account. Just check the "Inbox" folder located on the home screen of your Starbucks app. If you don't see it, try updating your app in case it is out-of-date. Make sure to let your barista know that you would like to apply the Happy Hour offer to your order when you go to pay.
If you are a member, you also should've received an email about the upcoming Happy Hour deal. If you didn't get a chance to, make sure to scroll all the way to the bottom. There's an adorable little quiz from Starbucks that will help you figure out what drink to order during Happy Hour. The quiz shows three festive holiday sweaters: Chic & Sleek, Cheer Is Here, and Party Fever. Choose the sweater that fits your mood and Starbucks will make a suggestion for you.
I decided to give it a spin and clicked on the "Cheer Is Here" sweater. What's my drink? Starbucks recommended the Toasted White Chocolate Mocha because I'm "always the life of the party." I'm a Peppermint Mocha kinda girl at heart, but I guess I'll have to give this one a try.
A few things to note: Starbucks' Happy Hour does not include hot and iced brewed coffee, ready to drink beverages, Starbucks Reserve beverages, or Frappuccinos. Oh, and you won't be able to redeem your Happy Hour code any other day besides today, or use it in conjunction with any other offers, according to Starbucks.
This is basically everything you need to know about Starbucks' Nov. 8 Happy Hour. Make sure you stop by this afternoon to treat yourself to a cup of holiday cheer (the caffeine won't hurt either). Cheers! And TGIT.