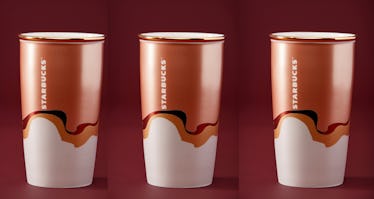 Starbucks' Festive Cups Are Coming Back To Help Count Down To The Holidays
Starbucks
Fall may have officially just started, but it is never too soon to start thinking about the upcoming holiday season. I know, you're still thinking about all things pumpkin. (I am, too.) But Starbucks' 2018 holiday cups and gifts are gorgeous AF, and it's already got me counting down to December. I always look forward to Starbucks' festive cups, but this year's selection is out of this world beautiful.
On Tuesday, Sept. 25, Starbucks announced the kick-off of their "90-day countdown until Christmas" campaign. To celebrate the occasion, Starbucks released a few photos of several new cups coming out later this year and they are so pretty. The festive collection features "shimmering cold cups, sleek tumblers, festive mugs, and whimsical Starbucks Gift Cards," according to a press release from Starbucks. The holiday cups range in price from $17.95 to $19.95.
The cups aren't available for purchase just yet, but this sneak peek has me so excited. The gorgeous cups and festive gift cards will only be available at participating Starbucks stores throughout the United States and in Canada, according to Starbucks. You're going to want to add all of these to your holiday wish list, or at least give them as gifts to your friends and family.
First up is the Iridescent Cold Cup. It's 24 ounces and costs $18.95. This one is crystal-colored and appears to have a rigid texture. I'm pretty sure I'd never put this cup down. Next up is the Green Glitter Ombre Stainless Steel Tumbler that holds 12 ounces of cold or hot liquid. Basically, you can use this one for all of your coffee needs. It costs $17.95. Then, there's the Red Glitter Ombre Stainless Steel Tumbler. This one is 16 ounces and costs $19.95. Red is often associated with the holidays, so you'll look extra festive walking around with this insulated cup.
OK, the Double Wall Ceramic Sparkle Blend Tumbler is hands down my favorite of the options so far. It's mesmerizing to look at. It's white on the bottom and fades into rose gold for the top. It almost looks like if you cracked open a rock and you are looking at the different layers fading into one another. The colors make this the perfect transitional cup from the fall to winter seasons.
Then, there's the Black Sequins Cold Cup. For $18.95, this cup can hold up to 24 ounces of iced coffee (or whatever chilled beverage you prefer). Last, but certainly not least, is the Flow Glitter Cold Cup. This cup costs $18.95 and features a rainbow of colorful glitter. I love anything that sparkles, and nothing says the holidays quite like the cheerfulness of this cup.
Of course, let's not forget the festive Starbucks gift cards. This year's batch is adorned with poinsettias, gingerbread men, polar bears, and more.
Starbucks plans to release more seasonal gifts as the holidays draw near, according to a press release on their website. Although, they have not said exactly what those gifts will be. Hopefully, it's more of these beautiful cups (like I'm going to need another one after I buy all of these).