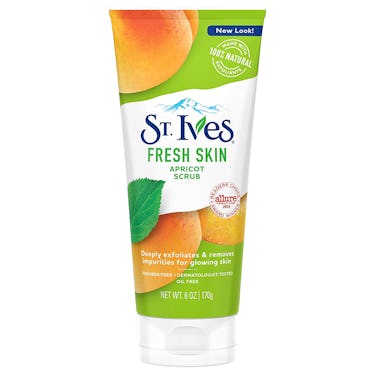 St. Ives Dropped A $10 Perfume Version Of Apricot Scrub & It's All Teenage You Ever Imagined
St. Ives
When you think of a classic facial exfoliator, the St. Ives Apricot Scrub probably comes to mind. After all, the white and orange tube graced virtually every teenager's bathroom shelves in the early aughts. The brand just bottled the scent up, and you already know the St. Ive's Apricot Scrub perfume is everything your teenage self ever wanted.
Yep, you read that correctly. St. Ives, famous for its award-winning, best-selling apricot scrub, has now taken the essence of its iconic formula and distilled it into a scent that you can wear on your skin all day, rendering that ritual of sensorial sink-side scrubbing bliss a frozen moment in time that you can return to whenever you want... without having to scrub a dub dub. The name of the new scent is "Iconic Apricot."
But trying to distill one of the most iconic and recognizable skincare scents of all time to satisfy millennial nostalgia sounds like a tough gig, no? So what does this new wearable scent actually smell like? I have yet to get my hot little hands on one, but according to reports from Bustle, it sounds like it smells just as satisfying as my younger self would've hoped.
Yep, apparently the fragrance smells pretty darn similar to the OG scrub, which is to say the scent is easy to love, and not at all overpowering, Bustle reports. Think notes of fresh apricot (of course!) and that somewhat unplaceable creaminess that perfectly balances out the fruity flavor. If my descriptions aren't doing it for you, feel free to close your eyes and transport yourself back a few years to the first time you gave the apricot scrub a shot and you'll get the picture. Note: the scrub has gone through some cosmetic updates over the years, but the formula is still the same. (If, on the other hand, you've managed to live a decade or two without trying the scrub, may I advise booking it to your nearest drugstore and giving it a go?) I digress.
In short, the new fragrance sounds yummy. Plus, it's perfect for summer (or for the upcoming seasons that are approaching us more quickly than many of us would like!) The only downside is the size, which, at 10 millimeter is smaller than I'd prefer. On a positive note, though, it's totally TSA-friendly!
No word on whether the brand will be releasing additional rollerball scents. If it does, my personal preference would be for a perfume version of the St. Ives Energizing Coffee and Coconut Scrub. Because who doesn't want to smell like coffee and coconuts all day long?
If you're a St. Ives fan who lives in New York City, consider yourself lucky: the brand recently opened the St. Ives Mixing bar in the Flatiron district — and yes, it's exactly what it sounds like. The pop up allows you to get super crafty and make your own bespoke face scrub! And, of course, you can shop the new Iconic Apricot rollerball fragrance. I have yet to stop by the skincare spot, but it looks pretty amazing. Not to mention, you might just run into Nick Jonas; the pop star is apparently a fan, as per some images captured recently of the 25-year-old making some concoctions for fiancé, Priyanka Chopra. (I wonder if he picked up the new rollerball?)
Regardless, I think the rest of us should pick this baby up. Not to mention, it's only ten dollars! If you can't make it to the Big Apricot — er, Apple — no worries. You can still snag your own Iconic Apricot Rollerball ($10; stivesmixingbar.com) on the virtual market. Head on over to the St. Ives website now. Happy scrubbing and spritzing!