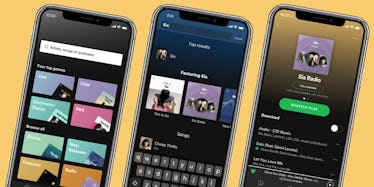 These New Spotify Premium Updates Make It So Easy To Find The Perfect Song
You guys, Spotify just released a major update that is going to simplify the way you engage with the app. The update will also make it easier for you to find the music you want to hear. There is a lot of music out there, and if you're like me, you might find it overwhelming at times to keep up with everything that's available to listen to. You're in luck because Spotify Premium's new personalized search feature is here to help. The app's latest feature will help you find the perfect song in no time.
On Thursday, Oct. 18, Spotify uploaded a blog post to its website detailing the latest features to hit the app. It's all part of a global rollout by the company to improve your experience while listening to music. Subscribers will have access to a "more personal intuitive experience," according to Spotify. So what's new? For starters, Spotify Premium now offers a personalized search function. The music app has redesigned the Search page. Now, you can search for the music you want to hear, or bop around and explore different songs or artists that you haven't heard of before. The personalized search feature makes choosing (and finding) music so much easier.
The second new addition to Spotify Premium is a more streamlined way to navigate within the app. The update has flushed out the kinks of the previous navigation options. Now, Spotify Premium users will be met with music recommendations on the Home page, a new way to discover music using the Search function, as well as an easier way to listen to your favorite songs, artists, playlists, and podcasts in Your Library, according to Spotify.
The third (and final) Spotify Premium update is called Endless Artist Radio and lets you listen to a playlist based on your favorite artist or song. To me, this function sort of sounds a bit like Pandora (you know, when you type in an artist and then it plays songs by other similar-sounding musicians). To access Endless Artist Radio, just type in the name of a song or artist you want to hear. This will cue up a playlist full of related music that you're probably going to love. Oh, and you can even download the customized playlists and listen to them while offline. I recommend downloading the playlists to your device, especially if you have any upcoming holiday travel (like long flights). This new feature will easily help you pass the time.
You should see these new features in your Spotify app as of Thursday, Oct. 18, as they start rolling out to Premium users on iOS and Android. If you don't, head on over to your device's app store and check for an update. It's possible that your phone or tablet is running a previous rendition of Spotify that does not include the latest features. Once you run the update, you should be good to go. If not, try again in a day or two. While the features should be available to users around the world, sometimes these mass rollouts can take a day or two to reach everyone.
With Spotify Premium, you have access to any song, unlimited skips, no ads, and the ability to download music and listen from anywhere, according to Spotify. Right now, you can try Spotify Premium for free for 30 days. After that, Spotify Premium costs $9.99 a month. If you're a student, you can get Spotify Premium plus Hulu and SHOWTIME for $4.99 a month. Seriously. To claim this deal, sign up on Spotify's student website.
Once you have Premium, you can enjoy all the new features that rolled out on Thursday. Happy listening!