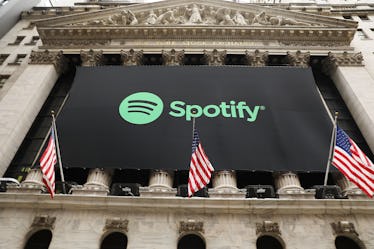 This $4.99 Spotify Student Deal Let's You Watch Movies Without Breaking The Bank
Spencer Platt/Getty Images News/Getty Images
There are so many entertainment subscription services out there. You probably already have a few TV, movie, and music packages that you use regularly. Well, Spotify is aiming to simplify the process with a sweet new deal that includes some of your favorite streaming services, and it seriously sounds like one of the best deals out there. Spotify's new "Premium For Students" subscription includes the SHOWTIME network, as well as few other top services. And you can get it all for a very affordable price.
On Wednesday, Aug. 29, Spotify is launching a brand new Premium entertainment package, per the company. There's one catch, though. You must be a student currently enrolled in a college in the United States in order to score this money-saving deal. The new and improved Spotify Premium For Students includes more than just the usual Spotify Premium subscription. It also comes with subscriptions to Hulu's Limited Commercial Plan and SHOWTIME, including access to SHOWTIME's entire TV show library. This is a serious powerhouse package unlike anything else I've ever seen before.
You're probably thinking this package is going to cost you a small fortune. Well, let me share some good news with you: It won't. Spotify is offering all of this to current college students for just $4.99 a month, per the company. That's a monthly value of $28.97, according to Spotify. If you don't have a current Spotify Premium account, now is the time to buy in. Spotify is running an unreal deal on its "Premium For Students" entertainment package. Right now, you can sign up for just $0.99 for three months. That price includes access to Hulu, SHOWTIME, and all of your usual Spotify Premium perks (aka no commercials while listening to your jams).
After the first three months, the Spotify student subscription will be bumped up to $4.99 a month. On its own, a Hulu Limited Commercials subscription costs $7.99 a month, and you'll be getting it (with the other perks) for the all-inclusive price of $4.99 a month.
If this deal sounds vaguely familiar to you, there's a reason for that. In September 2017, the Swedish music streaming service announced that college students with a current Spotify subscription would be able to watch videos, movies, and more from Hulu at no additional charge. This time around, Spotify is sweetening the deal a bit with the addition of SHOWTIME. Now you can binge Shameless anytime you want.
"Spotify Premium has just changed the content game for students. By joining forces with SHOWTIME and continuing our relationship with Hulu, Spotify Premium is now able to give students a complete world of music and video content, shows, and film," said Alex Norström, Spotify's chief premium officer, in a press release. "This latest offer for U.S. students — both the millions already on Spotify Premium and those who are new — really is huge. Never before have students had this level of streaming entertainment options, at this unprecedented value, all in one package."
College isn't cheap. According to the College Board, in-state students will spend roughly $9,410 to attend public 4-year college, and out-of-state students will spend $24,890 a year. With costs like that already hiking up your monthly expenditures, it's great to see companies like Spotify, Hulu, and SHOWTIME stepping up to give college students a break on the cost of their favorite content streaming services. Anything to save a few bucks (probably to throw toward those student loans).
To sign up, head over to the Spotify website to verify your student details. The offer is only open to college students currently enrolled in a Title IV accredited college or university. So, sign up and start streaming.