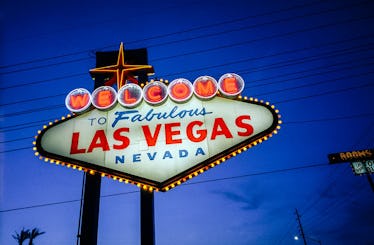 Explore Las Vegas For Less Than $70 With Southwest's "Summer Of $69" Sale
I think one of the most painful realizations I've had to face upon entering adulthood is the fact that summer break doesn't exist when you're stuck on the grind. Even though the warm weather no longer earns you a few months of freedom, taking a trip at some point is vital (for the sake of your well-being, TBH). However, since travel can be expensive (and also because making decisions is really hard), make sure to check out Southwest's "Summer of $69" sale — you'll likely find some cheap flights to unexpectedly awesome destinations.
With the "Summer of $69" sale, flyers can snag a one-way flight for less than $70. I know, it's honestly kind of mind-blowing, right? Flights from from Salt Lake City, Utah, to Las Vegas, Nevada, are only $69, and trips from Raleigh, North Carolina, to Nashville, Tennessee, will only cost you $74. Maybe you're in Boise, Idaho ,and you want to travel to Spokane, Washington, which will only cost you $64, and if you're living in New York City, like myself, you can fly to Denver, Colorado, for only $133, or to Atlanta for only $163. There are so many on-sale flights leaving from most major airports, so there's most likely a variety of sweet (and cheap) travel opportunities for you, wherever you're based. Just keep in mind that seats are very limited and blackout days apply... so you'll want to get on this ASAP.
To participate in Southwest's "Summer of $69" sale, travelers are required to book their trips by May 31, according to the Southwest Airlines "Summer of $69" sale's terms and conditions. The flights must embark anytime between June 19 and November 3, so make sure to mark your calendar. The site also reminds flyers to ensure the date and time is definitely convenient, because unfortunately, tickets are totally non-refundable. Oh, and fares aren't available flying to or from Newark, New Jersey, Portland, Maine, or San Juan, Puerto Rico, so plan accordingly. I'm so excited for ya!
OK, this definitely narrows things down a little bit for me, in terms of where I can go on a budget this summer. But seriously, where should I actually go? With highly discounted flights leaving from New York City that fly to Dallas, Texas, Chicago, Illinois, Atlanta, Georgia, and Tampa, Florida, there are so many opportunities for me to explore new cities, and I have no idea which to pick. Seriously, I don't think I can make this decision on my own. Can somebody please pick for me? OK, thanks, I appreciate it tremendously.
Were you hoping to see the Northern Lights this summer instead? Well, don't worry, because there are $99 flights to Iceland right now, and snagging a ticket is so simple. First, navigate to WOW Air's website, where it has a specific page for flights to Reykjavik, the capital of Iceland. Then, scroll down and hit "Select Origin," where you'll be able to choose from 13 different locations, such as New York JFK, Boston, Los Angeles, New York EWR, Cleveland, San Francisco, Washington D.C., St. Louis, Chicago, Pittsburg, Detroit, Cincinnati, and Dallas-Fort Worth. Most of these origins have $99.99 tickets to Iceland, so check that your region is up there before you start planning. Have fun, be safe, and stay warm.
Wherever you ultimately choose to go this summer, I know you'll have a blast. Southwest Airlines' "Summer of $69" sale is offering so many cheap travel opportunities, and they're all literally a click away. Make sure to Instagram all of the pictures, though — I need to live vicariously though your travels.