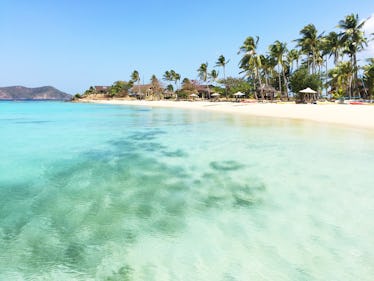 You Can Fly To The Caribbean For $59 With Southwest Airlines' Sale, So Book ASAP
I'm gonna speak for most people and say that this endless winter weather is total BS. There's a chance that Mother Nature actually fell off her rocker this time, because — correct me if I'm wrong — it should definitely be spring at this point. I'm done with freezing rain, I never want to see snow again, and honestly, I'd love nothing more than to bask in the sunshine right now. If this cold weather has you coming down with a serious case of the travel bug, though, Southwest Airlines' flash sale has extremely cheap flights for this summer... and even though it won't get you out of the cold this instant, it's still getting me stoked for brighter days.
Although booking flights can often be kind of pricey, traveling cheap is never completely impossible (because hello, flash sales totally exist!). Until April 19, you can book super cheap flights via Southwest Airlines. Travelers can book one-way tickets for as low as $49 any time between April 24 and June 13, or between Aug. 21 and Oct. 31, per the Southwest Airlines website. Shorter domestic flights are obviously on the cheaper side. For example, a ticket from El Paso, Texas, to Phoenix, Arizona, will be $49, as opposed to a ticket from Hartford, Connecticut, to Denver, Colorado, which comes out to $191. But, hey, traveling anywhere would be absolutely stellar, and anything on the slightly cheaper side is 100 percent worth it, in my book. You know what I mean?
If you're seriously just ready to flee the country, though, same here. And luckily, Southwest Airlines has several dope deals on international flights, leaving during the same dates as the domestic flights. Travelers can go from Fort Lauderdale, Florida to Turks and Caicos or Belize for $59, or from Baltimore, Maryland, to Cancun, Mexico for $185. So if you're on a budget but you're really dying to get out of good old (super chaotic) USA, leaving the country on a budget is an option. Just make sure to check your nearest airport on their site to see what your exact ticket prices will come out to... it really shouldn't be too steep, though.
If you ultimately decide to embark on a magical journey to a far away land this summer, please, please take me with you. But also, make sure to invest in a good quality toiletry bag before you go. While traveling, organizing personal belongings — especially beauty and hygienic supplies — is vital, so definitely make sure to check out the best travel toiletry bags to accompany you on your glorious summer excursion. Each one suits different preferences and needs, and they come in a range of styles, colors, sizes, and materials. Some are focused on providing travelers with convenience, others are more easy to navigate and sort through, and some are even more stylish than others. Choosing a toiletry bag really depends on what exactly you're looking for, but a quality toiletry bag can truly be the key to a successful trip, if you catch my drift.
Whether you're planning on hopping just a few states over, traveling from coast-to-coast, or fleeing the country like I (ideally) am, make sure to check the deals on Southwest Airlines' website. I don't know if it's this god-awful weather, or if I'm just getting real antsy up in here, but these low-priced trips are looking pretty appealing right about now. Just make sure to book anything before April 19 — but if you forget, flash sales always come and go. Mother Nature is just totally and utterly dead to me, and TBH, I really need a vacation.