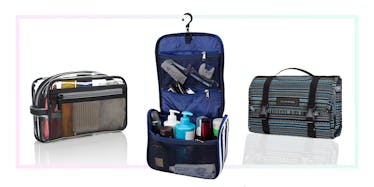 5 Highly-Rated Toiletry Bags Guaranteed To Keep Your Products Intact During Transit
Amazon / Bustle
Packing: some love it, others loathe it. Personally, I find playing Tetris inside my suitcase therapeutic. And it's especially enjoyable when you have the best packing tools possible. Investing in one of the best travel toiletry bags may seem like a small part of the larger packing picture, but it's more important than many of us may realize — after all, good packing hacks start from the inside. Think about it: that little pouch carries some of our most important necessities — a favorite perfume, medications, jewelry. And the last thing you want is an explosion of TSA-approved liquids all over your precisely-folded clothing, right?
Fear not, because I've done the heavy lifting for you. After sorting through reviews and articles about the best toiletry bags to travel with, I narrowed it down to seven options that will protect your items and make sure that they get from point A to point B free of mess.
To suit your specific preferences and needs, this list includes a range of styles, colors, sizes, and materials. Maybe you're all about convenience and want a bag that will hang on the back of the bathroom door. Or maybe you opt for style first and want a colorful pattern or unique material that will set your bag apart from the rest. Or maybe you want to be able to glance down and see everything — clear material? That's on here, too.