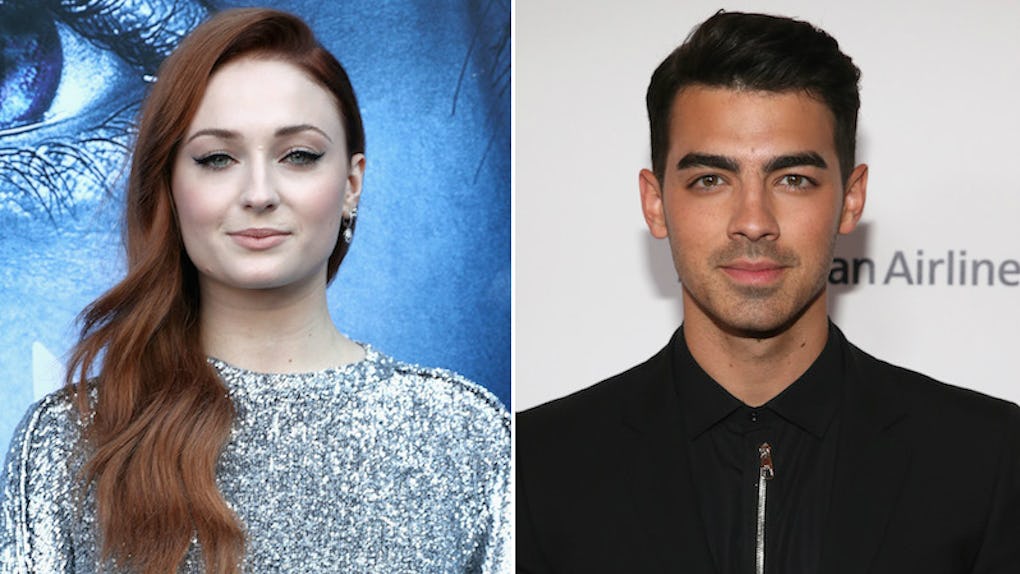 Frederick M. Brown/Jonathan Leibson//Getty Images Entertainment/Getty Images
Sophie Turner's Response To Pictures Of Her Crying With Joe Jonas Is So, So Relatable
Hey world: I see your quickie celeb relationships, and I raise you. Yes, it's super fun to hear about celebs shacking up and getting engaged within a few week's time, but there's one couple who have been quietly engaged that I can't get enough of, and that's Joe Jonas and Sophie Turner. The pair reportedly started dating towards the end of 2016, and about a year later, made things official by puttin' a ring on their fingers. But recently, the singer and actress were spotted out in New York City looking pretty damn sad. So sad, in fact, that Sophie Turner was captured in photos crying, while her supportive fiancé was seen comforting her. If you wanted to know what made the Game of Thrones actress so upset, look no further, because Sophie Turner's response to pictures of her crying is so relatable that it actually hurts.
Of course, once fans saw the pictures of Turner looking inconsolable, they immediately were concerned. What could make her cry out in public? Was it the first time wearing those shoes? Did she just finish reading a particularly depressing novel? Did she watch a Subaru commercial?
FYI, all of the above have made me cry, so these all seem legit to me.
But nope, the reason is even more understandable than any of those three combined — her period. She took to Twitter on Thursday, Aug. 16, and re-tweeted the image that shows her crying, and wrote, "Lol. Thank god I have a loving fiancé. Periods are a bitch."
I FEEL THIS ON A SPIRITUAL LEVEL.
And I'll be damned if I'm the only one.
But one fan on Twitter was quick to question Turner's reasoning (for reasons completely unbeknownst to me), and wrote,
Are you telling that you start crying till your face is burnin' red bc you have ur period? Even when you know paparazzis are behind you? Next joke please.
But don't worry, Sophie Turner saw that girl and responded in the most epic, truthful way. She wrote, "Girl.... you've never had cramps."
This isn't the first time Sophie Turner has made me want to give her a standing ovation. In an interview with Marie Claire back in April, Sophie Turner said that her engagement to Joe Jonas is not an "achievement" and explains exactly what that means:
There's this weird misconception that being married is the greatest thing that'll ever happen to you. But I've always found that my career is something I work for, and when I achieve something, there's a sense that this is the greatest thing I'll do in my life.
She continued, saying,
It's lovely to be engaged. Not like I achieved anything, but I found my person like I'd find a house that I love and want to stay in forever. There's a sense of peace that comes with finding your person. But there's a drive that comes with your career.
Thank you, Sophie Turner, for bringing out all of the feels. And thank you for showing me that when I do have ~emotions~, it's totally cool to just cry it out. God bless.