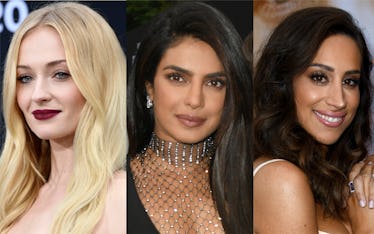 The Jonas Wives Had The Most Supportive Reactions To The JoBros' New Album
Frazer Harrison/Getty Images Entertainment/Getty Image; Kevin Winter/Getty Images Entertainment/Getty Images; Kevin Winter/Getty Images Entertainment/Getty Images
I can't believe I'm actually writing this, but the Jonas Brothers are back with their new album Happiness Begins. It seems that just about everyone has been anticipating the album's release because Kevin, Nick, and Joe Jonas haven't released new music together since a decade ago. Yeah, it's actually been that long. Because of that, the JoBros fandom is made up of fans old and new — some that have been with the guys since their Disney days, and others (like me) who joined quite recently (I don't know why it's taken me this long to get hooked, I'm sorry). Now that Happiness Begins is out, fans have been listening to the album all day and sharing their reactions on social media, but the Jonas Brothers' biggest fangirls — their wives — have the best reactions of them all. You just have to see Sophie Turner, Priyanka Chopra, and Danielle Jonas' reactions To Happiness Begins.
OK, let's start with Sophie Turner. Just two hours after the album dropped at midnight on June 7, Turner posted a screenshot of herself listening to Happiness Begins, or more specifically, "Hesitate," the twelfth track on the album. She let her 13 million Instagram followers know that her husband, Joe Jonas, and his brothers had a new album out (yes, get that promo!). She wrote, "HAPPINESS BEGINS IS OUT NOWWW," followed by five fire emojis, which I'm sure is an indication of just how amazing the album sounds.
Turner also shared that she's had "Hesitate" on repeat and tagged Joe Jonas, letting him know that she loves him. Fans took this to mean that Joe Jonas wrote "Hesitate" about her. Either way, she seemed to love the album, and honestly, who doesn't?
Priyanka Chopra also let her 40 million Instagram followers know that the Jonas Brothers have released a new album. She posted a promo clip of Happiness Begins and captioned it with, "Dropped today!" She also congratulated the Jonas Brothers and tagged her husband Nick Jonas, as well as her two new brother-in-laws. Like Turner, she also posted a few fire emojis (I see a pattern now, but I'm not complaining, the album is absolute fire).
If you liked those reactions, wait until you see Danielle Jonas' because she took hers to the next level. She had a countdown clock going on her Instagram Story until the moment the album dropped. When midnight came around and the clock reached zero, confetti shot out on top of a photo of her and Kevin Jonas sharing a sweet kiss.
She also shared a video of herself and Kevin Jonas before the album dropped where she was playfully singing, "The album's coming out! The album's coming out!," and also posted some Boomerang clips of herself with a physical copy of Happiness Begins.
She also celebrated the album's release with her two daughters, Alena and Valentina. You know that anything involving her and Kevin Jonas' kids is going to be adorable. Danielle Jonas went live on Instagram and let Alena take over her Instagram for her. Alena talked about the Jonas Brother's concert she went to on June 6 to celebrate the release of Happiness Begins. She said, "I loved the concert. It was the best." OK folks, that's pretty much the only review that matters! If Alena says the Jonas Brothers are the best, then they are the best. But seriously, the entire Jonas family is so supportive of the new album and I'm here for it.
So maybe you should take the girls' advice and go listen to Happiness Begins! Here, I got the Spotify link for you, so you can get jammin' to these new songs ASAP.