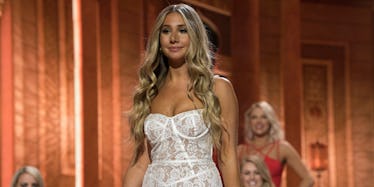 This 22-Year-Old Got Engaged On 'The Proposal' & Here's Why She Ended It — Exclusive
ABC/Byron Cohen
A lot of 22-year-olds this past spring were finishing up their college degrees and applying for full-time jobs. Sophia Schöenau, then a senior at Tulane University, had something else on her plate: a producer from the new ABC show The Proposal asked if she'd be interested in joining the cast. During the show's third episode airing on July 2, the recent grad was the last woman standing, getting engaged to a man she had just met. But now, Sophia Schöenau from 'The Proposal' isn't engaged to Stephen Lukinovich anymore. In an exclusive interview, Schöenau told Elite Daily what it's really like accepting a proposal on television and where the relationship went wrong.
To start, Schöenau, a sociology major and business minor, had no idea what to expect when she went on the show — she definitely did not know she'd end up engaged. She says she didn't know details going in, and thought it'd be more like The Bachelor. (If you haven't watched, The Proposal has one main person sit in a pod, concealed from the numerous contestants competing for an engagement. The lead asks the contestants personality questions and eliminates a handful after each round. The lead ultimately reveals themselves and has the chance to propose to the final contestant. The first two couples from the show are still together.)
Her former fiancé Lukinovich, 27, is an account executive from New Orleans, Louisiana. On The Proposal, he said his love life is nonexistent and he wants a love like his parents'. He described his ideal match as "smart, funny, kind of a goofball-ish."
"I was hoping that we would hit it off and get along and be attracted to one another," Schöenau tells Elite Daily. "I didn't have any expectations. I was having fun with it." She says that on the show, she felt an instant attraction to him, and their personalities "just clicked."
As for what she was thinking about their engagement? In the moment, Schöenau "couldn't even process" what was happening, and wasn't thinking too much about the future. "I was enjoying it moment to moment, not thinking long-term."
She says that the fact that Lukinovich lived in New Orleans – where she went to university – was a lucky coincidence. They returned to NOLA after filming, meeting each other's families since they were newly engaged. The two dated for a couple of weeks, but Schöenau says it was "obvious" things weren't going to work due to her graduating and moving to New York.
Schöenau herself initiated the breakup, and says that Lukinovich was "beyond understanding." The formerly engaged couple talks all the time, including after their episode aired last night. She says they've bonded over their shared experience and are close now. Schöenau hopes Lukinovich will visit her in New York, and she wants to see him when she goes back to New Orleans, as well.
Schöenau provided this video for The Proposal's Twitter account to give fans an update on her engagement to Lukinovich:
And The Proposal episode three lead also said the following, "Sophia and I both moved back to New Orleans as an engaged couple. But, we wanted to kind of start our relationship from the beginning, and get to know each other before we progressed to the next stage."
Even though Schöenau and Lukinovich have broken up, she still thinks the show was a great experience. The recent college grad became friends with the other contestants on the show (including former The Bachelor and Bachelor in Paradise contestant Christen Whitney!), and says they've been so "comforting and supportive."
As for what's next for The Proposal's winner? Schöenau says she's applying to jobs and focusing on her career at the moment. When that's settled, she says she'll go back to dating.
And maybe there's a possibility she'll get back together with her ex-fiancé down the line. Schöenau says you never know.
"I wish it worked out between me and Stephen, but I'm very hopeful and I'm very happy that we're still friends."
Check out the entire Gen Why series and other videos on Facebook and the Bustle app across Apple TV, Roku, and Amazon Fire TV.
Check out the "Best of Elite Daily" stream in the Bustle App for more stories just like this!