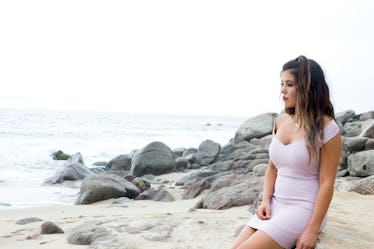 Scallop Fingers From 'Bachelor In Paradise' Is On ABC's Newest Show & Twitter Is Losing It
If you've done a double-take during a blink-and-you'll-miss-it frame from The Proposal commercial, you're probably not alone. A certain memorable alum of The Bachelor is set to make an appearance on the upcoming series, so don't adjust your TV set. Christen from Bachelor in Paradise is on The Proposal, so get ready for at least one familiar face to be a part of ABC's newest dating competition.
Christen Whitney stepped on the reality TV scene as a contestant of Season 21 of The Bachelor, vying for Nick Viall's heart. The Tulsa, OK native only made it to week 3, but she got a second chance at love on Season 4 of Bachelor in Paradise. Not only did she strike up a short-lived connection with Jack Stone, she made an unforgettable mark on the season when she was dubbed "Scallop Fingers" for the sheer fact that she enjoyed eating seafood and, as food tends to do, it lingered on her hands. Despite the fishy nickname and being the subject of what felt like an unrelenting joke, Christen took the whole thing in stride and became a fan favorite of sorts.
Christen even pinned her tweet from last September that referenced the whole thing. Way to overcome it and laugh it off, Christen!
Speaking of Twitter... The internet is now welcoming Christen back to television with open arms, as it appears she'll be heading to ABC's The Proposal — which premieres on Monday, June 18. The new pageant-style dating show comes from the creator of The Bachelor and each episode follows daters as they try to win over a mystery suitor based on first impressions, beachwear, romantic questions, and approval from said suitor's family and friends. After the contestants are narrowed down to two, a proposal is presented. "Will there be a marriage proposal that can't be refused?" ABC asks.
Did you catch Christen blowing a kiss in the promo? Well, her former Bachelor and Bachelor in Paradise co-star Raven did, pretty much confirming Whitney's involvement.
But she wasn't the only tweeter in Bachelor Nation pumped to see Christen in action again.
Christen hasn't commented on her participation, but a picture — or a trailer — is worth 1000 tweets.
When she's not busy searching for her soulmate on national TV, Christen is doing her thing in Nashville and is looking to get into real estate. When asked if she would go on further reality shows, she said she would consider the possibility.
"If I were to do more reality TV I would maybe go on Paradise again next year just because my time on there was short. That's assuming that I would even get asked. I don't know. There's a ton of awesome girls on this season [of The Bachelor]," she revealed on Sarah Scoop in February. "I really don't know. Then there's another part of me that doesn't want to keep branding myself in the reality TV world."
It looks like Christen is tuning into this season of The Bachelorette and like many of us, she's a Grocery Store Joe fan.
Hmm. Does that mean Christen's single at the moment?
Bachelor Nation will find out soon enough if The Proposal worked in her favor.
"The Proposal is essentially The Bachelor on steroids," host Jesse Palmer teased to ET Canada. "Essentially at the start of the episode there's 10 eligible men or women vying for a proposal from a mystery man or woman who will not be revealed to them until the end of the show. This all happens in 60 minutes and it's one of the aspects of the show I love so much. For people at home watching, you're not going to have to wait three months to find out if there's a proposal, who's proposing, is there an acceptance."
The Proposal debuts Monday, June 18 at 10 p.m. ET on ABC.