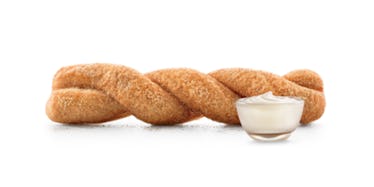 Sonic Just Released A Sweet Pretzel Twist That'll Be Your New Fave Fall Treat
Soft pretzels are my jam. It's not a food I eat often — usually only at football or baseball games. Nonetheless, I still always enjoy devouring the salty snack (and dipping it in whole grain mustard). Well, one fast-food joint is reimagining the classic American snack and giving it a sweet twist. There's no doubt that you are going to be craving this sugary pretzel delight all season long. Sonic's Sweet Pretzel Twist is the perfect fall treat to try, and I'm already hungry.
For a limited time, Sonic is selling a Sweet Pretzel Twist at participating locations nationwide. Sonics' Sweet Pretzel Twist is made of soft and sweet dough that's been wrapped together and glazed with butter, according to the company. That's what gives it a golden-brown, crispy texture. The pretzel also features a healthy dusting of cinnamon sugar because no dessert is complete without sugar. Plus, cinnamon sugar desserts are a must during the holiday season. The description alone is enough to make my mouth water.
Finally, this bad boy wouldn't be complete without something to dip it in. This isn't just any ol' dipping side, though. What pairs best with a cinnamon sugar pretzel? A serving of sweet and fluffy cream cheese frosting, of course. You know the frosting that comes on top of a cinnamon roll? Think of it like that. I'm so ready to place my order.
You can use a spoon or knife to funnel the goodness directly onto Sonic's Sweet Pretzel Twist. Or, you could dip it directly in the cream cheese. I'm totally going to break apart my Sweet Pretzel Twist and slam dunk it right into the tub of cream cheese frosting because that's the most efficient way to eat it IMO. There's no wrong way, though. To each their own.
So, how much will this treat cost you? Sonic's Sweet Pretzel Twist is only $1.99 and comes with one large pretzel plus a side of cream cheese frosting. It's a super wallet-friendly snack that will satisfy all of your cravings. Especially when you are out doing your holiday shopping this season. Remember, this sweet snack is only available at participating locations for a limited time. The sooner you order, the better.
If you need something salty to balance out the sweetness, check out the fast food joint's Soft Pretzel Twist. It's basically like the sibling pretzel to the Sweet Pretzel Twist. Instead, this one is topped with pieces of salt and served with Sonic's signature cheese sauce. Yum. It can be yours for just $1.99. Why not order both?
Sonic is also known for their amazing food deals. Right now, you can order a quarter pound double stack cheeseburger and medium tots from Sonic for just $2.99. The burger comes with two beef patties, crinkle-cut dill pickles, grilled onions, shredded cheddar cheese, cheddar cheese sauce, and is served on a brioche bun.
There are more great deals where that came from. Download the Sonic app (available on iOS and Android devices) to get half-priced drinks and slushes from 2 to 4 p.m. You need to order ahead of time to get 50 percent off the beverages, but it is super easy to do. Just don't forget to add on your Sweet Pretzel Twist when you place your order. Bon appétit!