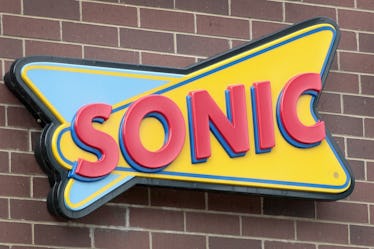 You Can Win A $200 Sonic Gift Card For All The Slushes You Can Handle
Scott Olson/Getty Images News/Getty Images
You guys, you're going to want to keep reading because Sonic is giving away free gift cards. That's right. You can get all the grub you want if you win one of these gift cards that are valued in amounts of up to $200. In order to have a shot at winning big, you will need to do this one thing. Here's how you can score a free gift card to Sonic during the fast food joints limited-time giveaway.
Sonic is giving away free gift cards to kick off the launch of "Order Ahead." This is a new feature within the Sonic mobile app that allows customers to customize, order, and pay for food and drinks before arriving at a participating Sonic restaurant. Once you arrive, just pull into a spot and someone will bring out your order momentarily. You can also pick up the order yourself.
So, what does all of this have to do with free gift cards? To drum up excitement about the Order Ahead feature, Sonic is giving away up to $200 in gift cards, as set forth in an email from Sonic to "My Sonic" email members on Nov. 7. The gift cards come in the amounts of $100, $150, or $200 and can only be redeemed at Sonic locations. The giveaway could start at any moment. That's why you need to sign up ASAP to be alerted when the gift cards go live.
There are two ways to sign up. The first way is to sync your Facebook account with the Sonic website. There will be a button for you to click in order to set this up. The other option is to go the more traditional route of supplying a valid email address, as well as your first and last name.
On the next screen, you will be asked how you would like to be notified as soon as the reward details are released. You can choose to get a text message or an email announcing the news. I would suggest opting to receive a text message. Personally, I know I'll see that first before I look at my email. If you choose to be texted, just remember that messaging and data rates may apply. Oh, and you'll get no more than four texts about this promotion. So no need to worry about being bombarded.
You can earn time and get early notices about when the gift card promotion will go live. How do you earn time? There are a few ways. When you are logged in, click the red "Earn More Time" button in the upper righthand corner. That will pull up a list of ways for you to go about earning time. For example, you can download the Sonic app to earn 5 minutes or copy the referral link for 3 minutes. There are other ways you can earn extra time. Just remember that Sonic sends everyone who has signed up the secret link simultaneously. Get your game face on, because time is of the essence with this promotion.
Sonic is known for their super cheap food deals. For example, take Sonic's new quarter-pound double stack cheeseburger and medium tots deal. The entire meal costs just $2.99. I'm no math whiz, but, uh, that is ridiculously cheap. Just think of all the burgers and tots can enjoy for $200. Some quick math tells me that you could order this meal 66 times without having to pay a penny (and you'll even be left with a few bucks). Can't forget about their tasty slushes, either. These frozen drinks are half-off during Sonic's daily Happy Hour event.
This giveaway is going to get pretty competitive. Good luck out there.