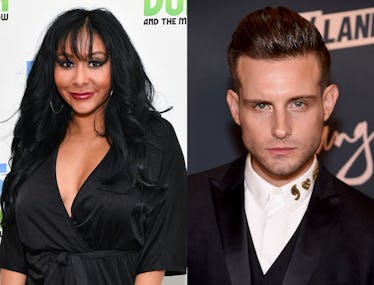 Snooki & Nico Tortorella Will Host The American Version Of This U.K. Tattoo Show On MTV
Dia Dipasupil/Getty Images Entertainment/Getty Images & Jamie McCarthy/Getty Images Entertainment/Getty Images
It almost feels blasphemous to imagine Nicole "Snooki" Polizzi working with anyone but her beloved Jersey Shore guidos, but Snooks has landed a new gig at MTV with another familiar face. Although Season 2 of Jersey Shore Vacation debuts in late August, Snooki and Nico Tortorella will also host MTV's Just Tattoo of Us. She and the Younger star will appear at the helm of the new adaptation of a U.K. reality series, but this is no Love Island. The series has an emotional twist to it that the two hosts ought to handle with a perfect balance of humor and sympathy.
Originally airing in the U.K. in 2016 and now in its third season, MTV's Just Tattoo of Us asks people to trust their family, friends, or significant others to design meaningful tattoos for them. The person won't see the tattoo until it's completed, which is when their designer will explain the personal meaning behind the tattoo they created. The original series utilizes reality stars as its hosts, and the upcoming American version has partially followed that casting formula. While Snooki is a staple at MTV through Jersey Shore and its various spinoffs, Younger regular Tortorella has stuck to acting, also appearing in Scream 4 and the Lifetime movie Menendez: Blood Brothers.
In the international market, Just Tattoo of Us is one of MTV's most popular shows, and based on this compilation of contestants' shocking reactions to their tattoos, the original version often veers into friends choosing seriously regrettable ink for the participant. The majority of Just Tattoo of Us YouTube clips includes reveals of offensive or sexually explicit tattoos that the participant is usually furious about, but the show has its touching moments too. In this excerpt, British reality TV star Charlotte Dawson tears up when she realizes her friend designed a tattoo tribute to her late father.
Seeing as the American MTV channel probably can't get away with showing some of the raunchier designs the British series displays, it sounds like Snooki and Tortorella's version will focus more on a balance of sentiment and stupidity rather than an extreme shock factor. Can Snooki invite some of her Jersey Shore crew to tat each other up on the show?
Snooki shared the news of the show on her Twitter, while Tortorella posted a long message about their involvement on Instagram. It's safe to say these two are excited!
On Instagram, Tortorella wrote:
...the blind tattoo format. the art of the tattoo, deep rooted symbolic body modification, dates back 5,000 years so in actuality this is the reawakening of what has always been. with a twist. this is a show about trust, love, and relationship ... you get me and the snooks. the greatest best friend comedy duo y'all never knew you needed. until now.
"Best friend comedy duo?" I'm totally here for Snooki making a new buddy outside of her typical gang, but this isn't a proper MTV show unless it has crossover appearances from other network stars. Have the Teen Mom ladies design some ink for each other! Get a Real World couple to pick out the other's tattoo! Is it too much to ask for Snooki and Tortorella to even select a design for each other further down the line?
MTV has yet to release a premiere date for Just Tattoo of Us. Snooki will appear on Season 2 of MTV's Jersey Shore Family Vacation when it premieres on Thursday, Aug. 23.