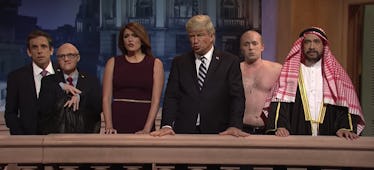 Alec Baldwin Reprised His Trump Role On 'SNL' In A Musical Spoof On The Russia Investigation
If you ever stay up to watch Saturday Night Live, you're probably well aware that the weekly show is known for its stellar openings, and the one that aired on Saturday, Dec. 1 was no exception. Like most of the show's opening sketches, it was filled with cameos, quick jokes, and, of course, a hilarious appearance from Kate McKinnon. So if you didn't catch SNL's cold open with Alec Baldwin's Donald Trump at the G20 summit, it's completely star-studded, and if you ask me, it's definitely one for the books.
After a few weeks on hiatus, Alec Baldwin returned to the SNL stage to once again reprise his role as Donald Trump, and what a glorious comeback it was. In said opening sketch, the Trumps are in Argentina to meet with world leaders at the G20 summit. Meanwhile, the POTUS can't stop thinking about the Mueller investigation, as he says, "It almost feels like he's coming after me." In response, Melania, (played by Cecily Strong) says, "Cheer up, Donald. Worst case scenario you go to prison and have to transfer your money to me for safe keeping and I have to hire a jacked hunk to protect me." LOL, yikes.
Then, seemingly out of nowhere, Rudy Giuliani (played by Kate McKinnon) appears. In reference to the Mueller investigation, McKinnon's Giuliani says, "I'm involved, so [the investigation] is not great. This might be the first time someone's lawyer pleads insanity." Giuliani's statements about Trump's potential collusion, there's a chance there might be a little truth to the joke. Anyway, McKinnon's Giuliani proceeds to exit by flying off into the distance with bat wings (because why not?).
Things then start to get a little juicy. Baldwin's Trump gets on a call with the POTUS' former lawyer, Michael Cohen (played by Ben Stiller), where he asks why Trump made him do "so much illegal stuff." Referring to Cohen's guilty plea on Thursday, Nov. 29, in which he admitted to making "false statements to Congress" in regard to the plans for a Trump Tower deal in Moscow, Russia during the 2016 presidential election, per The New York Times. Elite Daily reached out to Cohen's representatives for comment, but did not hear back in time for publication. Even with no set plans for a build in Russia, this news could potentially establish that Trump did, in fact, have financial interest in Russia at the time. Oh, well. The White House did not immediately respond to Elite Daily's request for comment on Cohen's plea deal.
Baldwin's Trump goes on to comment on the "bro handshake" demonstrated by Putin (played by Beck Bennett) and the Saudi Prince Mohammed Bin Salman (played by Fred Armisen), which plays off the fact that the two politicians did, in fact, high-five at the G20. Let me tell you, it was... definitely pretty bro-y.
The sketch ended with the cast singing a bizarre rendition of "Don't Cry For Me Argentina" (get it?) and Baldwin admits that he's very guilty for "no-nos," "treason," and not "keep[ing] [his] promise." Trump has repeatedly denied any collusion with Russia in the 2016 election, and has continued to call the Mueller investigation a "witch hunt." Eek. All in all, it was hilarious, though, so you'll want to watch the whole thing for yourself in the video, below.
As usual, SNL's political opening was a total laugh, and the entire cast nailed it. Regardless of where you stand on these matters, you'll probably get a laugh or two out of the hilarious parody. If anything, though, McKinnon's Giuliani expressions will definitely slay you.