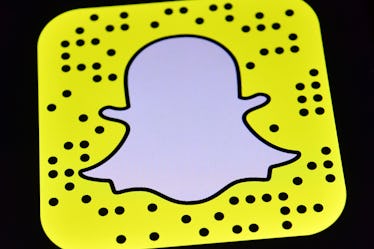 Snapchat Secretly Rolled Out This New Filter Feature
Carl Court/Getty Images News/Getty Images
Sometimes that dog tongue filter just won't cut it. Snapchat is unveiling a whole slew of new features, which aim to liven up all your snaps (yes, even the glowering ones you send to your friends after a loooong day at work). Snapchat's new filters recognize what's in your photos, and I think that means we're all going to need to up our snapping game. Or, at the very least, put about 10 more seconds of thought into those snap stories.
The new filters rolled out the week of Nov. 20 without much fanfare, according to Mashable. Basically, the app is now able to figure out what you're taking a picture of and offer up different filters that compliment the image. Hanging out with your dogs? There's some colorful bone filters for that. Snapping a picture of a glorious feast you just prepared? You can now automatically add a banner that reads "what diet?" (very much appreciated). There's also add-ons for your beach vacation, sporting events, and even more food-themed filters for the aspiring foodgrammer in all of us.
To access the feature, log onto Snapchat, aim your camera at an object or your surroundings, and the new filter options will automatically generate on the usual carousel at the bottom of the screen. The features are reportedly being gradually rolled out, so you might not see any new filters just yet.
This all probably ties into a pretty smart marketing move on the business side of things. Back in July 2016, Business Insider reported that Snapchat had received an object-recognition patent which would presumably allow them to incorporate ads and brands into their new filters. So, basically, get ready for some pet product tie-ins alongside your handy dog bone filters.
The new filters come alongside a whole slew of new features Snapchat has been adding to their roster lately. In September, the app rolled out "Sky Filters," which allow users to swap out the regular ol' sky in their snap with something a little bit more avant-garde. The options rotate daily, and include a starry night, a rainbow, a sunset, and a sky just before a storm. It seems like we are starting to be able to create our own virtual realities at this point and I have very mixed feelings about that. Like, maybe let's just let the sky do it's own natural thing. It's already pretty good at making a killer sunset.
In recent months Snapchat has also released photo editing tools, 3-D filters, and now allows users to take six 10-second videos at one time. It kind of seems like Facebook, Instagram, and Snapchat are all in a battle for who has the newest, most advanced, most technologically cool features out there. It's a pretty close call at this point, though it's worth noting that, as of July 2017, Instagram has 250 million daily users for Stories, while Snapchat has 166 million daily active users, according to CNN Money.
But don't worry, Snapchat is still plugging away. If you're not a big filter person, the app is also working a few other new angles too. In Oct 2017 they launched a feature called Context Cards which adds contextual information to geotagged photos and public snap stories. You can use the feature to book restaurant reservations, order an Uber or Lyft, and also get information about different public stores, like their hours and phone number.
Whatever happens in the Instagram/Snapchat/Facebook battle, Evan Spiegel, the creator of Snapchat, believes the app will continue to be on the cutting edge of things.
"We have an opportunity to really change things," Spiegel told Wired during an Oct. 2017 interview. "If you look at the past five or six years, in every category — whether it's communication or media — we have absolutely transformed the technology landscape. There is no better place to be than Snap right now."
Can we expect that in the near future Snapchat will become some sort of virtual reality outlet that is also maybe a robot? I mean, Uber is supposedly creating flying cars by 2020, so literally anything is possible at this point.