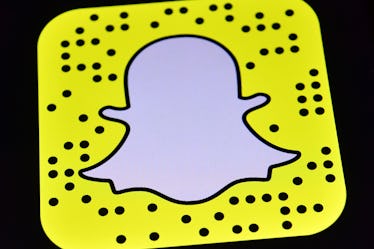 Snapchat Is Launching A New Video Playback Feature To Get You Back-To-School Ready
Carl Court/Getty Images News/Getty Images
Hot off the presses, Snapchat is rolling out a brand new way to edit your video Snaps. Snapchat's new "Bounce" feature is here to help you relive all your best moments, over and over again. The social media app announced the new feature, in addition to several others, on Thursday, Aug. 31. Get your cameras ready, because the Bounce function is about to be your new best friend.
Snapchat announced the release of a handful of new features to the app just in time for back-to-school. The easy breezy days of summer are just about behind us, and Snapchat is ready to help you learn a brand new skill as you head back to the classroom.
One of the latest features to hit the social media app is the ability to "Bounce" videos. Let's say you just took the best Snap ever of your friend jumping in the pool. You probably want to replay the part where your friend hits the water because there's nothing like making a big splash. With the addition of Bounce, you'll be able to playback and loop any portion of your video Snaps. That way you and your friends can relive the moment as many times as you'd like. You will be able to select the exact moment in your video Snap that you'd like to "Bounce" back to, according to a Snap Inc. spokesperson.
To use the Bounce feature, take a video snap by pressing down and holding the Capture button on the Camera screen. Once you've shot your video, you can toggle back through the footage using the infinity loop icon. This icon is located on the right side of your screen. Make sure to select the "Bounce" function, which is the second option. From there, it's as simple as pressing and dragging the slider to choose the part of the video you want to put on loop. Once you've selected the clip, it will transform into a Bounce. It's that simple. Even better? You can share your masterpiece with all of your friends.
Slo-mo, time-lapse, and Boomerang may all be fun ways to capture moving images, but Snapchat's newest "Bounce" feature seems like it might be my new go-to for all things entertaining.
In addition to "Bounce," Snapchat also announced several other changes to Chats. When you send a message on Snapchat, it automatically deletes when opened. Not anymore. The social media app is giving users the option to keep one-on-one chat conversations for up to 24 hours, according to a Snap Inc. spokesperson. This means they won't disappear after you read them, so you can go back and reference them at a later date. Honestly, nothing is worse than typing in Snapchat, all to forget what I was previously talking about. You'll be able to turn this feature on for each individual chat you have. To do so, navigate to the Chat setting menu within each conversation to turn it on or off.
Earlier this summer, Snapchat rolled out a way for users to delete chats they've previously sent. That function still holds true today. It applies to group chats and private chats. You can still make those conversations disappear even if they've been saved or viewed.
Some of your other favorite and familiar Snapchat functions are still going strong. Like the ability to share your location with a select few friends on Snap Maps. The "My Friends Except" feature lets you pick and choose who you want to share your location with.
If you are having trouble accessing any of these features, make sure your Snapchat app is up-to-date, and happy Snapping!