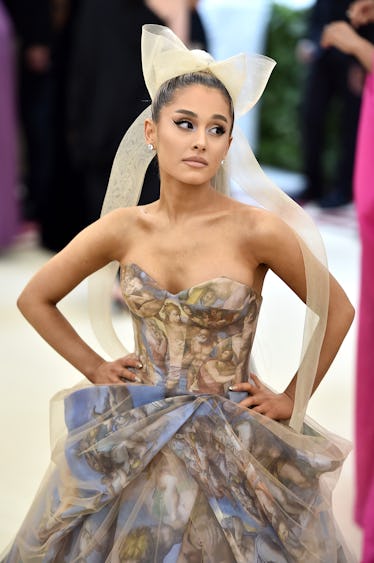 Ariana Grande Has A New Snapchat Lens That Lets You Try On Her Cute 'Sweetener' Merch
Theo Wargo/Getty Images Entertainment/Getty Images
Looking for Ariana Grande's Sweetener merch? Then you'll have to make your way over to Snapchat because that's the only place you'll be able to see it. Grande has partnered with Snapchat to create a custom face Lens that reveals Grande's new merchandise. Fans can use Ariana Grande's new Snapchat Lens to try on the merch before actually buying it.
So, what exactly is the merch in question? A Sweetener-branded face mask that features a pastel tie-dye design. The mask is available via the custom Snapchat face Lens, which features Grande's song "breathin."
As if Grande wasn't already innovative enough, this is the very first time an augmented reality face Lens will feature a replica of an artist's merchandise. So, this is very futuristic stuff happening right here. And every Snapchat user has the opportunity to try out the face mask before they hit that purchase button. Oh, and, by the way, you can purchase Grande's Sweetener merch right through the Snapchat app.
Here's how you can use the lens. Open Snapchat in selfie mode and tap anywhere on the surface to active the Lens carousel. Once you find the Lens icon with the Sweetener face mask and music note, you can select it.
While toying around with the Lens, you'll see a "Shop" button. If you tap it to purchase the face mask, Snapchat will take you to their e-commerce platform where you can buy the mask for just $20. If you happen to see the Lens posted to a friend or celeb's Story, you can swipe up to buy the Lens with a Context Card. Basically, Snapchat makes it super easy for you to buy the Ariana Grande merch without any hassle.
So, this is what the Lens will look like when you give it a try:
And here's what the purchase screen will look like in Snapchat:
When you purchase the face mask, you'll also get pre-sale ticket access for Grande's 2019 tour. If you're in the United States, you will also get a link to download the full Sweetener album. Pretty awesome, right?
Oh, and here's the Snapchat code:
Sweetener is Grande's fourth studio album and was released on Aug. 17. So far, the album is on track to be No. 1 on the Billboard 200 chart. It would be her third No. 1 album. According to Billboard, Grande is also on track to sell 200,000 equivalent album units, which means Sweetener is one of the most popular albums right now.
Now that the album is out and doing really well in sales, it's looking like the Sweetener Snapchat Lens will give the album an extra boost. There's no question that fans will be flocking to the social media platform to get their chance to try out the face mask and tap that "Shop" button. With any luck, it'll be just what Snapchat needs to bounce back from what has been a year of business-related issues. Grande's fan base is massive enough to move some numbers for the platform, so here's hoping that both Grande and Snapchat's team enjoy a profitable partnership.