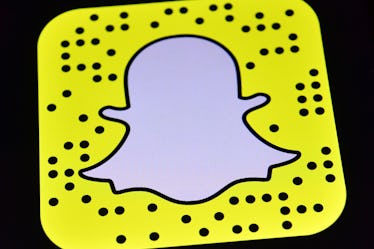 You Can Finally Delete Sent Messages On Snapchat & It's A Huge Relief
Carl Court/Getty Images News/Getty Images
If you have ever sent a message on Snapchat and immediately regretted it, you are in luck. Snapchat announced an essential new feature that was seemingly custom-made just for you. Previously, elusive Snapchat messages disappeared within moments of the other person opening it. That's all changing, thanks to Snapchat's "clear chat" feature, as reported by 9to5Mac. If you fire off a few words and find yourself calling them into question shortly after sending, take a deep breath. Now, you can make amends with yourself before the other person has any idea about it. Here's how to delete sent Snapchat messages.
9to5Mac broke the news of a new Snapchat feature, available as of Monday, June 11, that allows users to delete sent messages. Of course, you will need to be quick, because this has to be done before the other party opens the notification. Basically, if you give it the go-ahead, your message will self-destruct before the other party reads. The much-needed feature is fairly simple to use. Open up the Snapchat app and navigate to the message that you want to get rid of. Place your finger on top of the message, photo, sticker, or video you want to retract. Press down on the message and hold your finger there until the word "delete" pops up. Click to remove, and voilà! The message is gone.
There is a bit of a catch. You should know that Snapchat will still notify the recipient that you sent and deleted a message, per 9to5Mac. So, be prepared to possibly answer a few questions if they come to you wondering what mysterious message you sent and later deleted.
Sometimes, you really want to tell someone a thing, but you aren't sure if said thing is something you should actually tell them. Should you respond to their Snapchat Story? Send them a private message? Since you are on the fence, but still feeling pretty spry, you go ahead and hit send... just to see how it feels. That's when the immediate regret starts to set in. Should you really have sent that message? You tell yourself it is going to be totally fine. But is it really, though? The second guessing can be rough. To take the edge off, Snapchat is finally giving you the power to delete sent messages with this incredible new feature. Phew.
Sure, Snapchat lets the other person involved know you sent a message, but its a win-win for everyone. All of your problems have magically been solved, thanks to the ability to expunge a message. It truly is as easy as those three simple steps, so try it out for yourself. That way you are prepared and ready to put the function into play when you actually need it.
If you are unable to delete previously sent messages in Snapchat, it is possible that you are not running the most recent version of the app. Pay a visit to your mobile device's app store and update your phone to make sure you are running the latest rendition of the social media messaging app.
If you've updated your device and still don't have the capability to delete sent Snapchat messages, sit tight and be careful what you send your friends in the short-term. Keep in mind that even thought the clear chat feature is available as of Monday, June 11, sometimes the rollout of new features can weeks to reach all Snapchat users.
Being able to delete a sent Snapchat message is seriously a lifesaver — and it may just save you oodles of embarrassment down the road. Thanks, Snapchat. You always have my best interest in mind.