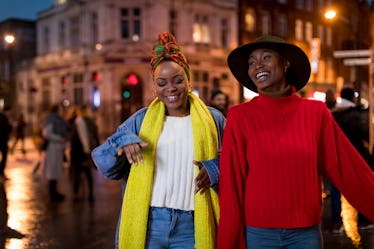 Sisters Who Rarely Fight Can Seriously Relate To These 7 Things
Fights happen, even with people you care most about in this world. You've probably heard horror stories about your friends getting into fights with their siblings, and it makes you cringe, because you and your sis are the complete opposite of that. Every time you hear about sisters fighting, you want to rush to your main squeeze and give her the biggest hug. You may not know a lot of sisters who rarely fight, but you're so glad to be part of the club.
I'm 26 years old, and I can barely count on one hand the amount of times my sister and I got into a heated argument. In our case, we learned so much after the first couple of fights, it has prevented others from happening. I'd like to think I'm pretty lucky for that, because I don't know what I'd do without the close bond I have with my sister.
Sisters can grow to be tighter than ever, but that's because they've experienced and worked out the kinks in their friendship. It's a crummy feeling being in a fight with your sis, and you are both very lucky if you've only gone through it a couple of times. Every sister relationship is unique, but for the ones out there who hardly ever fight, you know these seven things to be all too true.