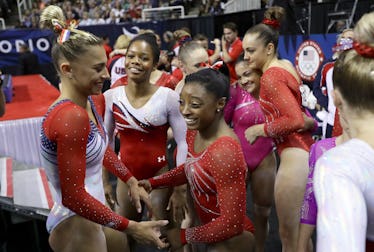 US Gymnasts Simone Biles & Ashton Locklear Shared Moving Words About Surviving Abuse
Ezra Shaw/Getty Images Sport/Getty Images
The USA Gymnastics scandal is one of the most awful, troubling, and downright heartbreaking sports scandals that America has been subject to, period. After it was revealed that Team USA doctor Larry Nassar had been using his position to sexually abuse child and teenage athletes for decades, the nation was left horrified. Those who have come forward to accuse Nassar have found themselves part of an upsettingly large community — but it seems that they've found support in each other, too. Simone Biles and Ashton Locklear's messages about surviving abuse are so moving, both for the changes they demand and they way they're supporting each other.
On Wednesday, July 25, Locklear posted a photo to Instagram of her standing beside Sens. Jerry Moran of Kansas and Richard Blumenthal of Connecticut during a press conference in Washington on July 24. In the caption, she wrote that seeing other girls and women come forward and share their stories helped her feel able to share her own — and she publicly shared for the first time that she was a survivor of Nassar's abuse. "I am a survivor of Dr. Larry Nassar," she wrote. She continued,
It's important to me for people to know because I want you to know my full story of what I've been through and what I had to come through to be the person I am today. ... Please know that I am dealing with this as best I can, and I am surrounding myself with people that can help me with my healing process. My sister survivors have been and continue to be an important part of that process.
And one sister survivor was standing by to help. Shortly after Locklear's post, Biles responded with an Instagram of her own, showing the two Team USA gymnasts side by side. She captioned it with a message of support for Locklear, writing that she was proud of her teammate and using a quote, "we may suffer alone but we survive together."
Locklear also said in her Instagram post that she was not going to let abuse stop her from competing. "Even after all I've been through, I want to show that it's possible to still go after your dreams," she wrote, continuing,
If you are wondering why I would stay in the sport after all that has happened, it is because it has been my dream to compete in the Olympics since I was 2 years old. I REFUSE to let Larry Nassar take that dream away from me. He took enough, he doesn't get to take my dreams too.
Locklear and Biles are the only two members of Team USA still competing with the national team to come forward about the sexual abuse they suffered from Nassar. In January 2018, the former Team USA doctor was sentenced to 40 to 175 years in prison after taking a plea deal in which he admitted to 10 sexual assault charges. However, more than 150 women accused him of abusing them, including Biles and Locklear's Team USA companions Aly Raisman, Gabby Douglas, and McKayla Maroney, and Jordyn Wieber. While Locklear's Instagram is the first public statement she shared directly, she also spoke to The New York Times on Tuesday July 24 and revealed that she too been abused by Nassar.
Locklear was in Washington D.C. to speak to the Senate about USA Gymnastics' response to the Larry Nassar abuse, and ensure that other young athletes don't suffer the same sort of abuse. After Nassar's abuse became public, multiple high-level leaders from USA Gymnastics resigned, and the U.S. Olympic Committee (USOC) announced that they were conducting an investigation into how the abuse could have gone on so long, per Sports Illustrated.
The organizations have also denied liability for Nassar's abuse, and sought to distance themselves legally. On July 23 the USOC also filed a motion to be removed as a defendant in lawsuits from gymnasts about the abuse, per the Associated Press, saying that although USOC is "appropriately" part of a discussion about moral responsibility, it has no legal responsibility because Nassar never worked for the federation. USA Gymnastics has also denied legal liability for Nassar's actions on the grounds that he was not on the organization's payroll, per the Associated Press, and in March filed a motion to dismiss the organization from lawsuits about the abuse, saying that "Nassar, not USAG, is liable for Nassar's criminal actions."
Locklear told the Times on July 24 that she didn't think the response to protect athletes was enough. "The same culture in the sport exists," she told the Times. "Athletes are still afraid to speak out. The same mind-set exists, and I know that personally."
But clearly, she's not giving up. Her friends, teammates, and fans have her back.