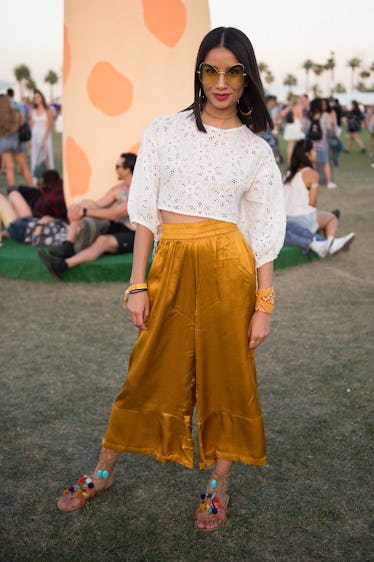 10 Pairs Of Oh-So-Silky Pants To Avoid Summer Chafing Woes In
Katie Stratton/Getty Images Entertainment/Getty Images
When it comes to warm weather dressing, materials that are are as lightweight as possible are of the utmost importance. While linen pieces are often held in the highest breezy regard, why not try out silk summer pants this year for when you want to kick things up a notch? Silk slip skirts are currently having a major moment, and for good reason—so why not try their far more practical and comfortable sister style?
Silk is one of the most luxurious materials one could wear. It feels like melted butter on the skin, doesn't cause chafing or irritation of any kind, and boasts a glossy sheen that automatically makes any silhouette look fit for a royal. It's also got that awesome slinky quality to it that feels sexy and fun to move in. Why, then, do we often forget about silk pants?
Best in wide-leg form (imho, there are many silhouettes to choose from), silk pants can be both casual or dressy, depending how you style them. For a night out dancing, wear them with a fitted bralette and strappy heeled sandals. For a weekend doing errands and seeing friends wear them with a graphic tee and sneakers. And for everything in-between, pair them with a cute cropped blouse and heeled mules. They'll feel like pajamas but will look subtly sophisticated—what more could you want?
Below, 10 of the best silk pants to shop now.
Princess Peach
If bubblegum hues and aughts-inspired style are your things, these baby pink trousers are for you. They feature a wide leg silhouette and drawstring waist, giving them a slightly sporty vibe.
Off The Cuff
The contrasting lines are everything on these trousers, which would make an excellent addition to any dinner party wardrobe.
Track Star
Olive green and orange is weirdly an awesome color combination, as exemplified by these track pants. Pair them with a white tee and the above sneakers for a breezy look
Take A Bow
Kim Possible, but make it orange. These look sublimely comfortable.
All That Flare
I said I liked wide-leg trousers, but these are extreme! I love them even more and could see myself dressing them up for a wedding or formal event.
Jog Your Memory
If 2000's-era Paris Hilton could've only seen these.... They're pink, they have a twinkling sheen, and they're slightly reminiscent of the Juicy Couture tracksuit. What more could she have wanted?
Catching Some Zzzz's
These are basically your grandpa's pajama pants, which only ups their cool factor. Don't you agree?
Boss Babe
Totally work appropriate but without sacrificing any style.
Sail Away With Me
Do these not remind you of retro sailor pants? I'd pair them with a red lip to make their buttons and side stripe pop. You'd definitely turn heads wearing these.
Creme de la Creme
For those of you who don't spill their food on themselves every two seconds there are these gorgeous cream trousers. Their sweet bow waistline renders them fit for any occasion.