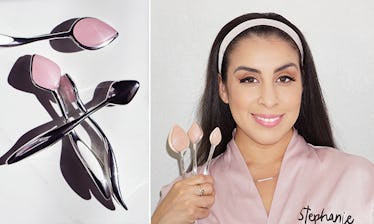 I Tried Silicone Makeup Brushes & Wow, They Honestly Save So Much Product
Stephanie Montes
Even though they look revolutionary, silicone makeup brushes aren't exactly a new concept. Before we could even get our hands on them here in the US, beauty junkies in Asia swore by them to hack their makeup applications. Although they've become available stateside in the past year or so, I was always too intimidated to try them for myself.
The flat, clear silicone makeup sponges look like they would be difficult to use. The shape doesn't seem face-friendly, the edges look sharp, and because they're flat, the handles look difficult to grip. I had heard mixed reviews about them in general, so I never really thought to try it out. As much of a beauty junkie as I am, those clear silicone makeup sponges just never really interested me much.
But then, the makeup brand Pür release a set of weird-looking brushes that look like a cross between the super-luxe Artis makeup brushes (you know, the ones that look like spoons with fur-like bristles on the other end) and the silicone makeup sponge I had overlooked about a year ago. Judging from a photo, the brushes look pretty, seem really soft, and have pointed ends, which makes me think they would be perfect for those hard-to-reach areas like around my nose and under my eyes. I ordered them and actually got excited to give the silicone makeup sponge trend a try.
Pür Pillow Blend Collection, $39, Ulta
Once I received them, I unpackaged the set and immediately loved how soft and pillowy the silicone applicators are, totally fulfilling the name Pillow Blend Collection. They're also so pretty. I love the chrome handle and soft pink color of the silicone. I'm a sucker for anything sparkly, so I'm more than pleased when I notice there are even specks of glitter packed in the applicator. Then, upon closer inspection, I noticed the silicone even has faux fingerprints embossed into the pink sponge. This makes me think it will be the ideal tool for applying concealer under my eyes — just like I would with my fingers, but more sanitary and precise.
Pür Pillow Blend Collection, $39, Ulta
I've never been one to use a brush to apply foundation — I'd much rather use a BeautyBlender. Foundation brushes usually leave hair-like strokes on my face when I use liquid products, and if I try to buff it in, I feel like I end up removing more makeup than I apply.
I dotted some foundation on half of my face and quickly realized just how much makeup my BeautyBlender really does absorb. Although I put just as much foundation on my face as I usually do, it turned out to be way more than I needed. I'm going to save so much product from now on by using silicone!
After only doing one side of my face, I think I'm in love. The coverage is a little heavier than I'm used to (but again, that's because the brush is absorbing none of the product) but it completely hides everything — freckles, dark circles, blemishes, everything! I finished the rest of my face and the coverage was so good, I didn't even need concealer afterwards. And in case you're wondering, this is the same foundation I've used before, but the coverage is completely different now.
I finished the rest of my makeup (blush, contour, highlight) using cream products and alternated between the different sized brushes for individual parts of my face. I chose the largest brush to apply my foundation, the smallest one to blend it around my eyes and nose, and the medium sized one to work in my contour color and blush.
The soft silicone and ergonomic handle allowed me to buff and tap my makeup on without leaving it looking streaky or patchy. I'm officially convinced that silicone makeup brushes are the way to go.
And as if I needed another reason to make these my new brushes of choice, cleaning them is so much easier than traditional bristles and sponges.
They get pretty messy looking when you use them, but that's nothing a little soap and a quick rinse (or even a makeup wipe) can't fix.