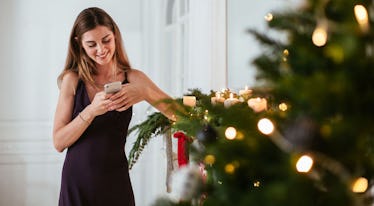 Here's Why You Definitely Shouldn't Text Your Ex During The Holidays
In high school, I had an annual partner. Basically, for two weeks every year, we would get back together over Christmas break, but by about New Years, the relationship would sour and we'd split up again. Every year. I thought it was a strange tradition until I realized that there really is just something about the cold winter months that brings out that desire for something safe, comfortable, and maybe even a little romantic. If that's something you can identify with, then dropping temperatures may have you wondering: Should you text your ex during the holidays?
Well, if my cycle of holiday makeups and breakups are anything to go by, I would say, "Uh, no. Don't do it." Even though it seemed like a good idea in the moment, it always ended the same way: In heartbreak. Still, I am curious on whether or not relationship experts would agree. Maybe texting an ex is something to consider over the holidays, and I just had really bad luck. I reached out to Chris Armstrong, the founder of relationship coaching company Maze of Love, and Clarissa Silva, a behavioral scientist, relationship coach, and creator of the Your Happiness Hypothesis Method, to get their take on whether or not it's a good idea to reach out and wish them a happy holiday. Here's what they advise.