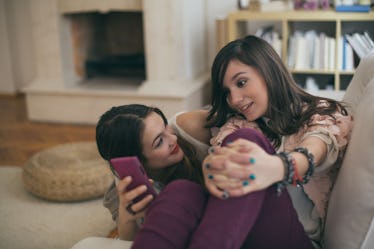 The Reason You Should Never Keep Relationship Problems A Secret From Your Friends
Discussing problems in your romantic relationship with your friends can be beneficial to you, your friendship, and your romantic relationship. There's no reason to feel guilty about talking to your close friends about your relationship, as long as you're being honest and not sharing anything too personal. If there's something that your partner wouldn't be comfortable with other people knowing, you should respect their privacy and keep those details between the two of you. But for the most part, choosing to talk about relationship problems with friends is actually really healthy. It benefits everyone involved by gaining perspective and decreasing built-up frustration.
It's easier than you might think to lose yourself in a romantic relationship, and your friends can help you get back to being who you really are. A reliable friend can serve as an objective outsider who has your best interests at heart and also knows you better than anyone. While you should take what your friends say into consideration, you shouldn't blindly follow their advice. There are certain things to take into account, such as their specific reasoning, if you're hearing this opinion from other people as well, and how much you trust this friend's judgment and insight. With that in mind, here are four reasons you shouldn't keep your relationship problems a secret from your friends.