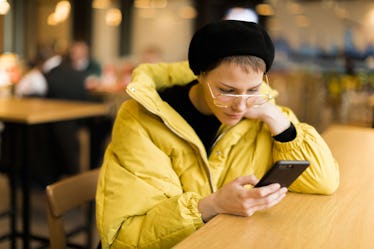 If Your Ex Just Texted You, Stay Calm — Here's Your Game Plan For What To Do Next
Getting a text from your ex can really throw your whole day off, and if it does, try to be gentle with yourself. Communicating with an ex via texting and other forms of digital communication like your DMs or even email can be complicated for myriad reasons. First of all, if you weren't expecting it, it can throw you off because you don't always open your phone or social media with your guard up. It's also OK to feel torn about whether you should respond if your ex texts you, because it can be confusing AF. So, should you respond?
"A text from an ex you still care about may send you into a serious session of overthinking and wondering what it means (i.e., do they want to get back together? did they realize it was a mistake?)," says Dr. Joy Harden Bradford, Licensed Psychologist and author of Questions That Need Answers: After the Breakup. Exes can be fickle people and their texts equally as unpredictable —  they could be texting you about a random jacket they need back or randomly profess their love for you. Either way, processing and moving past this experience, though challenging, is entirely possible.
To decide if you want to respond or not, consider taking the following steps first to evaluate how you feel and how you should proceed.