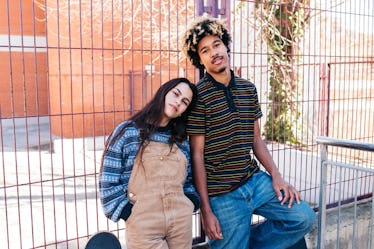 6 People Reveal What Happens When You Date Outside Your Type, Because It Can Be A Relief
IMHO, there are many pros and cons to having a "type." Sometimes, it can feel like life would be easier if your Venn Diagram didn't include "Looks like a skater, but isn't" and "Could be mistaken for Ellen Degeneres" (not speaking from experience or anything). So, should you date outside of your type? TBH, you really shouldn't feel any pressure to do anything you don't want to do. But if you're exhausted by the similarities in the people you've been dating, looking outside your type could be a huge relief.
Dating can be about a plethora of factors — luck, timing, or, well, having a satellite-level talent for surveilling the people orbiting your life. But at the end of the day, your Venn diagram could be, like, 12 circles with a ton of different qualities, and the center where they all overlap could be their feelings for you!
On the other hand, maybe you only have two circles: "looks a lot like Chad Michael Murray" and "smells nice." If you're struggling in your dating life and wondering if it's the sample population that's to blame, then check out what the following people had to say about dating outside of your type.