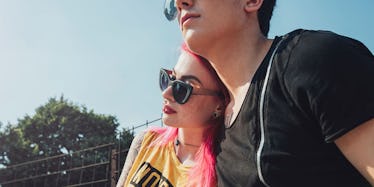 4 Signs Your On-Again, Off-Again Relationship Should Be Over For Good
Being in an on-again, off-again relationship can lead you to question whether or not it's really worth returning every single time. Are you at the point where you can't stop thinking: should we break up for good? That question is likely on your mind for a particular reason. While being comfortable with someone who knows you emotionally, intellectually, and physically is hard to give up, there are plenty of reasons you should consider ending a fickle relationship, once and for all.
I was once in an on-and-off relationship that lasted all of four years. Honestly, ending it for good was one of the best decisions I've ever made. I no longer felt like I had to leave my schedule open for them. I moved to new cities, and explored career opportunities that they probably would have look down on. I dated new people, and came out as pansexual. I'm unsure of how things would've turned out for me over the past couple of years, if I were still in that relationship. There were definitely signs that neither of us wanted to keep repeating that same cycle. For starters, a future between us began to seem less and less like something I could actually imagine. Additionally, they were vague about what being long-distance after college would look like. We broke up a week after graduating.
Here are the signs that your on-and-off relationship may need to be called off for good according to multiple relationship experts.