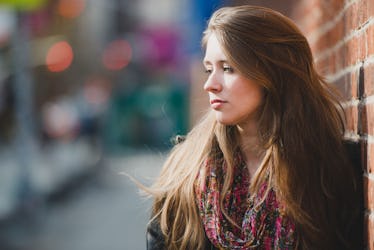 13 People Reveal What The Final Straw Before Breaking Up Was For Them, & OMG, Yikes
Breakups happen. Whether we want them to or not, sometimes it's just time to move on. Maybe your breakup was a long time coming, or maybe your partner does one awful thing, and that makes you realize, in that moment, it's over. The final straw before breaking up can come out of nowhere, or it could be something that seems small that's been bugging you, and only once it happens enough times do you realize that it's actually a deal-breaker.
The final straw can happen at any point in a relationship, whether you've been together for a couple of months, or a couple of years. I know this sounds cynical, but I don't think there's ever a time in a relationship where a breakup isn't possible — yes, even after decades of marriage. The final straw that leads to breaking up can vary per person and per couple. It could be that you finally realize your partner doesn't make you a priority. Or maybe they try to control every aspect of your life, and that's definitely not OK. It's your life.
To see what other people felt were the final straws before breaking up with their partners, I turned to Reddit. This is what I found.