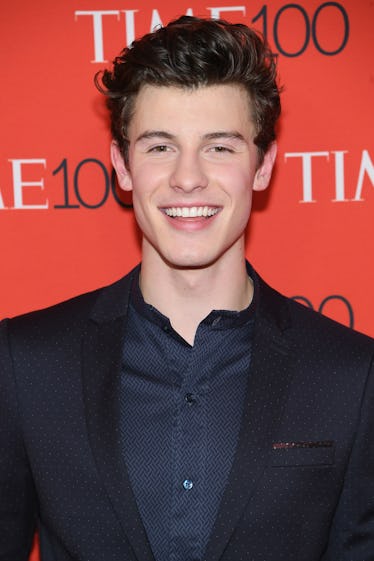 Shawn Mendes Missed His Chance At Meeting Meghan Markle & The Story Is So Sad
Dimitrios Kambouris/Getty Images Entertainment/Getty Images
If you had the chance to meet Meghan Markle and Prince Harry, you'd take it, right? Of course you would, as would anyone with a vested interest in the royal family. Unfortunately, though, not everyone gets the opportunity. Shawn Mendes did, and he completely blew it because he was too nervous! Yeah, Shawn Mendes missed his chance at meeting Meghan Markle and Prince Harry, and it's actually kind of hilarious.
So, here's how the whole thing went down:
Mendes was invited to perform for the Queen's 92nd birthday, which is wild all on its own. The lucky guy was readying himself to get on stage when he encountered the beloved monarch. Here's how Mendes told this part of the story to Ellen Degeneres:
I'm half British, so my grandad and nan were there. So, it was a massive, massive deal for them. I'm in this backstage area before you go on stage and I'm standing there waiting to go on stage and the Queen just walks up next to me and she's standing there.
So, the Queen was just hanging next to Mendes backstage? Did they talk? Did the Queen say she dug his music? According to Mendes, none of that happened:
And I'm looking at her, and you can't say anything. You're not allowed to speak to her unless she speaks to you first. So, it was like this 10 minutes of very awkward silence between me and the Queen.
Yikes! That's definitely awkward. The Queen actually didn't acknowledge Mendes at all, which is kind of sad given that he was there for her birthday:
She didn't look at me at all. I looked over a couple of times and I was like, 'I probably shouldn't even be looking.' It was super weird.
When DeGeneres asked Mendes whether he happened to run into Markle and Prince Harry, the 19-year-old said he did see them, but chickened out of saying hello.
Here's how Mendes relayed the story:
They were there. This is gonna be my biggest regret forever. I was walking down the halls and I see them in one room and they're just talking. And Meghan's Canadian, so I felt like, 'Oh, this is great. I can go and say hi. She's Canadian!' And I walked in with this confidence, and the second they kind of felt me coming, I just turned around and my body went numb … I've never been so starstruck like that.
Oh my goodness, so awkward! Sounds like the whole royal celebration was just strange all around for Mendes, which is too bad. I mean, who wouldn't want to meet the new royal couple?
Ah well, Mendes has other things going for him. Like his new single "Youth," which is an incredible collaboration with Khalid.
In an exclusive interview on Apple Music's Beats 1 with Zane Lowe, Mendes explained he came up with the idea of "Youth" after the 2017 terrorist attack on London Bridge:
I remember I woke up in the morning and the whole thought of my youth trying to be taken away from me was overwhelming. Not youth as in my age — youth as in my love, my happiness, my joy, my purity. It's not even about age; you could be 50 and your youth is there. It's in you. And all of these horrible things happening in the world, all of the headlines, it felt like every day it was just being pulled more and more out of us. I was like, 'This is what we have to write about.' And It was awesome. I'm really, really proud of the song.
Pretty moving words from a young and talented guy.