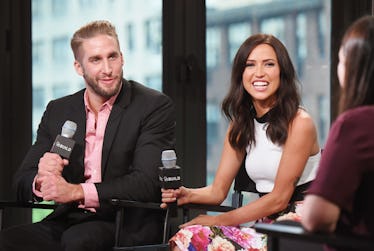 Shawn Booth's Quotes About Kaitlyn Bristowe Show Their Love Is So Real
Michael Loccisano/Getty Images Entertainment/Getty Images
Shawn Booth and Kaitlyn Bristowe are easily one of Bachelor Nation's favorite couples. Ever since their engagement on The Bachelorette back in 2015, they've been thriving and letting us all in on their day-to-day life through social media. And although they haven't tied the knot or announced a wedding date just yet, Shawn Booth's quotes about Kaitlyn Bristowe make it so clear that the couple isn't going to let public expectations of what should happen (and when) dictate their decision-making. TBH, good for them.
Setting aside my guilty pleasure appreciation for the Bachelor franchise, we can't forget that regardless of the narrative the show is selling, it usually takes way more than the span of a reality show to figure out if you want to spend your life with someone. If anything, I think the fact that they're taking their time is a testament to how seriously they're taking their relationship.
"We came off the show and into our engagement and have really just been taking things stride by stride," Booth told Us magazine earlier this year. "We have our own stride with how we want to take our relationship from the show out into the real world and it really has been an adjustment. But we've always been on the same page. We click like that. We've been normal and want to keep that normalcy."
Even though they aren't planning on rushing down the aisle any time soon, that doesn't mean that they aren't in a loving and committed relationship. Taking any romance that unfolded on national television and learning to keep things together when all the perks of the show are gone isn't so easy. In an interview with Entertainment Tonight, Booth reiterated that they're totally satisfied with the pace they're taking, and marriage is something they'll tackle when they both feel ready.
"Yeah, it feels like we're engaged, but we're taking our time, too. People always say it's crazy that we're not married yet after three years, and I'm always like, 'Well, what's the average time frame when somebody meets somebody to being married?' We've been engaged for three years, but we've also known each other for three years."
Booth has also been honest about the fact that making their relationship work IRL hasn't always been smooth sailing. And let's be real, any long-term couple knows that rough patches are a normal part of being together.
"It's tough. I can understand why [Bachelor] couples break up," Booth told ET. "If you're not strong enough to handle a lot of the outside noise and just the concept in general, it's very easy to call it quits. We've obviously had a lot of bad times, but a lot of good times. We've just stayed humble through it all, and just put each other first and worked on our relationship. But it's not easy."
As for the future, Booth mentioned in the same interview that he and Bristowe might decide to possibly even start a family before they say "I do".
"Kids, dogs, that excites us more than marriage. Whatever happens, happens. There could be a little kid running around before a wedding ring. Who knows?"
IMO, it's great to see a Bachelorette couple so unconcerned with appeasing the public. It really seems like Booth and Bristowe haven't let the timeline of the TV show affect their own plans for the future. It's not yet clear how things will turn out for these two, but their commitment to moving along at their own pace shows just how much they want to make things work in the long-run.
Check out the "Best of Elite Daily" stream in the Bustle App for more stories just like this!