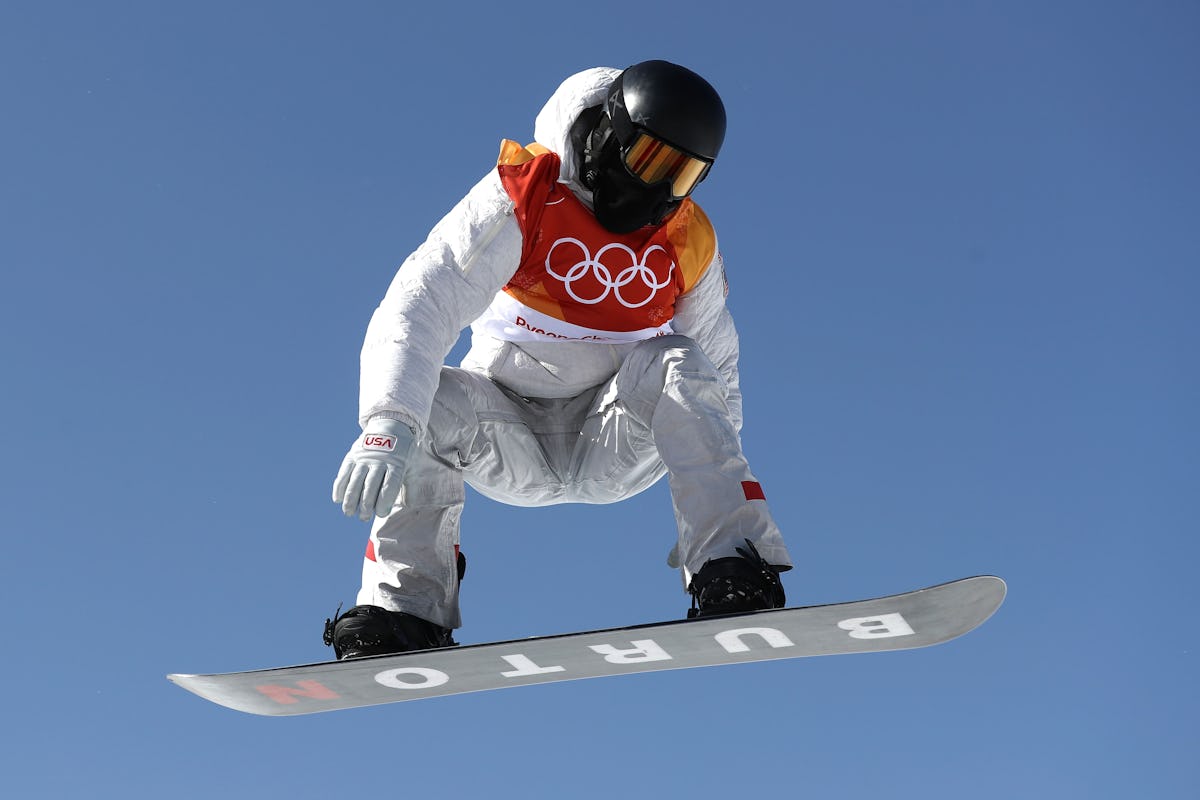 The Men's Snowboarding Halfpipe Winner Has Fans Absolutely Freaking
Clive Rose/Getty Images Sport/Getty Images
There are only a few snowboarders that can make us sit in front of our televisions in anticipation of their runs during the 2018 PyeongChang Games. One of those athletes is Shaun White (but you probably already knew that). The veteran Olympian was expected to make a huge comeback during the Winter Olympics, and he totally did. Shaun White won the men's snowboarding halfpipe competition and fans are ecstatic.
During his first run of the men's halfpipe, the snowboarder scored a crushing 94.25, placing him just over two points ahead of Australia's Scotty James. Other competitors, United States' Chase Joey and Japan's Raibu Katayama trailed closely behind at 87.75 and 85.75. But in the second round, White was knocked into second place under Japan's Ayumu Hirano, who took a 95.25. When the third round finally rolled around, White scored an incredible 97.75, bumping him into first place and earning him another Olympic gold medal.
At the qualifiers on the morning of Feb. 13, White had the highest-scoring performance that set the precedence for the remainder of the competition. After scoring a 98.5 during his second round, the 31-year-old told USA Today that he just knew he was capable of achieving the almost-perfect score. He said,
I knew I had it in me. And I watched these young guys put in these amazing runs and it fired me up and I just wanted to show, this is what I've been doing my entire life and I'm here to put it down. I feel night and day physically and mentally from Sochi, and I think that was a little bit of that shining through today.
And fortunately, that mentality worked in his favor.
Fans are totally freaking out.
There's no doubt that White's win is an awesome one, but still kind of doozy in the grand scheme of things. After the second round, it looked like the competition could have went either way and had some of us *cough* sitting on the edge of our seats and yelling at our televisions. But maybe White just wanted to ruffle us up a bit before his big win. Who knows.
White is one of the sport's most decorated athletes.
White has been on the radar of many sport's fans since he won two gold medals at the 2003 Winter X Games as a 16-year-old. At 19, he won his very first Olympic gold medal at the 2006 Winter Olympics, and another four years later at the 2010 Vancouver Games. But he missed out in 2014, only landing in fourth place in Sochi that year.
But this year's competition was also slated to be a big accomplishment for the San Diego native, because he suffered a major injury just months before the Olympics.
In a video sent to Today on Nov. 1, White told the show he'd suffered a bad crash while training in New Zealand. He said,
I was working on a new trick, and as I re-entered the halfpipe, I clipped the top. I flew about 22 feet and hit my face at the bottom, and had 62 stitches and I had some bad bruising in my lungs. My modeling days may be over, but I will definitely be there in 2018 in PyeongChang for the Olympics.
Even though White maintained he'd be competing in the 2018 PyeongChang Games, he admitted how tough the healing process was in an interview with ABC News. He said,
Honestly, it was the most visually jarring injury. I've had a broken bone, but it's not like you visually see the snapped bone. This was like, you can't avoid it. I'm looking in the mirror like, 'I don't even recognize this person.
At least now when White looks in the mirror he'll see a not one, not two, but three-time Olympic gold medalist. He deserves it so much.