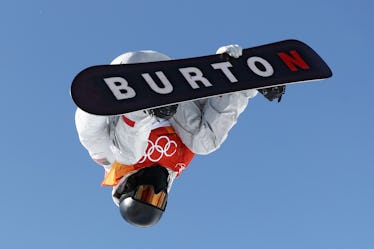 Shaun White's Epic Comeback At The Olympics Continued With This Halfpipe Run
Clive Rose/Getty Images Sport/Getty Images
Snowboarder Shaun White is making an epic comeback at the PyeongChang Olympics, looking poised to bounce back from a huge disappointment four years prior. After winning gold in the men's halfpipe final at both the 2006 Torino Games and the 2010 Vancouver Games, the veteran Olympian finished without a medal at the 2014 Sochi Games. Now, however, an impressive video of Shaun White's halfpipe run during the men's qualifying round in PyeongChang has become one of the top stories at the Winter Olympics.
On Tuesday morning, Feb. 13, that qualifying run gave White the highest-scoring performance heading into the halfpipe final, which will be contested on Wednesday morning, local time (airing on Tuesday night in the United States).
"I knew I had it in me. And I watched these young guys put in these amazing runs and it fired me up and I just wanted to show, this is what I've been doing my entire life and I'm here to put it down," White said after scoring a 98.5 during his second run of Tuesday's qualifying round, per USA Today. "I feel night and day physically and mentally from Sochi, and I think that was a little bit of that shining through today."
Because he finished as the top qualifier, White will perform last of all 12 competitors during the halfpipe final.
"I get my favorite slot, dropping last, and that was big for me," White said. "That's really a good-luck spot and I really wanted it, so I'm happy to have it."
Video of White's qualifying run can be seen below.
White is aiming to accomplish one of the more difficult feats for all Olympians: continuing dominance past the age of 30.
The San Diego native burst onto the sports scene as a 16-year-old, winning two gold medals at the 2003 Winter X Games. He then won his first Olympic gold medal as a 19-year-old at the 2006 Winter Olympics in Torino, Italy.
Winning another gold medal 12 years later in PyeongChang, at the age of 31, would not only be an impressive accomplishment of longevity. It would also mark a comeback from a gruesome injury that occurred just months before the 2018 Olympics began.
"Honestly, it was the most visually jarring injury," White told ABC News. "I've had a broken bone, but it's not like you visually see the snapped bone. This was like, you can't avoid it. I'm looking in the mirror like, 'I don't even recognize this person.'"
During a practice session in October, when White was training in New Zealand, the two-time Olympic medalist suffered a crash that resulted in over 60 stitches.
The accident occurred just a month after White had a separate injury set-back in September. The 31-year-old would later share an image of him recovering in the hospital from the New Zealand crash on Instagram.
"I've always lived my life by pushing the limits," White wrote in the caption. "Winning is great, but it's the tough times that truly define you. I took a slam while training the other day, but don't worry I'll be back soon and better than ever!!"
If White goes on to win gold in PyeongChang, it would give Team USA a sweep of both the men's and women's halfpipe. On Tuesday, 17-year-old American Chloe Kim won gold in the halfpipe, scoring a 93.75 to clinch the top spot at PyeongChang's Phoenix Snow Park.
"I need to go home and process everything and I'll probably bawl my eyes out some more," Kim told reporters after the final, "but this has been a dream of mine since I was a little girl, so just to be here and to be able to do it when it mattered feels amazing."
On Wednesday, Shaun White will attempt to mimic her success.