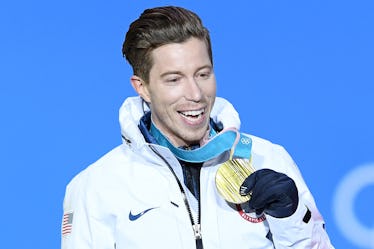 Shaun White Apologized On Live TV For His Comment About Sexual Harassment Allegations
Quinn Rooney/Getty Images Sport/Getty Images
Shaun White made quite the comeback at the 2018 Winter Olympics in PyeongChang. After finishing without a medal in 2014 at the Sochi Games, White showed fans that he still had it in him to win in PyeongChang, and won a gold medal for his halfpipe run on Tuesday, Feb. 13. Needless to say, it was beyond impressive. But during his press conference after winning gold, White was asked about a sexual harassment lawsuit that he was involved in back in 2016. He responded to the reporter by calling the suit "gossip," and wouldn't speak to any other questions relating to the lawsuit — which has some fans less than pleased, considering the current national conversation surrounding harassment and the #MeToo movement. Now, Shaun White has responded to his sexual harassment case with an apology after realizing that his choice of words are being considered unfavorable by many.
Elite Daily reached out to White's press team about his sexual harassment case and "gossip" comment, but did not hear back by time of publication.
In 2016, Lena Zawaideh, the former drummer of White's band, Bad Things, sued White for alleged "sexual harassment, wrongful termination, wage nonpayment, and other labor code violations," according to Deadspin. Zawaideh claimed White sent her lewd and demeaning text messages, and according to Deadspin, a representative on behalf of White made a statement regarding the texts to Zawaideh:
Many years ago, I exchanged texts with a friend who is now using them to craft a bogus lawsuit. There is absolutely no coincidence to the timing of her claims, and we will defend them vigorously in court.
The suit was settled out of court, and has been rarely talked about until the press conference after White won his gold medal, when a reporter asked if the lawsuit would tarnish White's legacy. He said,
I'm here to talk about the Olympics, not gossip and stuff. I don't think so... I'm proud of who I am. My friends, you know, love me and vouch for me. I believe that stands for itself.
The reporter then tried to question White once more, and his handler responded by saying, "We're here to talk about the gold medal."
Before walking off stage, White was asked one last time about the allegations, to which White responded by saying, "I have to get to the medal ceremony."
Journalist Christine Brennan, who was at the press conference, also noticed that none of the female journalists in the room were called upon to ask questions, despite several having their hands raised:
Many fans were just upset to realize that White was sued for harassment in the first place:
While others emphasized the disappointment they feel seeing Shaun White as a role model for young athletes:
On Wednesday, Feb. 14, White went on NBC's Today and apologized for his poor choice of words at the press conference. When asked if he wanted to "clear the air" about his comments, he said,
I'm truly sorry that I chose the word gossip. It was a poor choice of words to describe such a sensitive subject in the world today ... I was so overwhelmed with just wanting to talk about how amazing today was and share my experience.
With the #MeToo movement being such a widely discussed topic — and many notable people joining the campaign by using their platform to spread the word about sexual harassment — it's not surprising to see that White's choice of words has truly struck a chord with the public.
And, although White did apologize for using the term "gossip," it remains to be seen as to whether or not his fans will rally behind him.
Since the #MeToo campaign, many celebrities have spoken at length about the importance of everyone joining together to address sexual harassment. Back in October 2017, Ellen DeGeneres went on her show and spoke about the #MeToo movement:
This is not a male thing or a female thing. It is not a Hollywood thing or a political thing. This is a human thing. And it happens in the workplace, it happens in families, it happens all over the world, and we are all the same. We all want the same thing — we want respect and love and kindness.
Now, more than ever, people from all fields need to come together and recognize that things need to change.