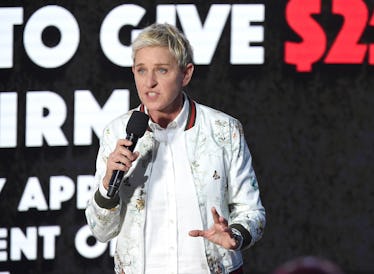 Ellen DeGeneres Adds Her Voice To The #MeToo Movement In Emotional Speech – VIDEO
Kevin Winter/One Voice: Somos Live!/Getty Images Entertainment/Getty Images
In the aftermath of sexual assault allegations against mega-Hollywood producer Harvey Weinstein, a moving social media movement has broken out across the nation. Women have come forward sharing their own sexual assault and harassment stories as part of what is referred to as the #MeToo campaign. Many celebrities have used their platforms and reach to add their voices to the echoing roar of individuals who have suffered in secret and silence. The video of Ellen DeGeneres' Me Too speech is empowering, and acts as a great example of the kind of solidarity and support the crusade is fostering.
#MeToo began on Twitter by actress Alyssa Milano, who shared the following message,
If all women who have been sexually harassed or assaulted wrote #MeToo as a status, we might give people a sense of magnitude of the problem.
And wouldn't you know it? – #MeToo. So, so, SO many of us too. A truly shocking, staggering, unbearable number of humans, too, all quietly shouldering the weirdness, doubt, guilt, and shame that come with being a victim to sexual harassment or assault.
Ellen DeGeneres, who has long been revered as a voice of reason and kindness, added her name to the #MeToo list, giving a moving monologue on her show.
Ellen addressed the audience and viewers at home directly, opening with,
I want to talk about something actually serious right now, today. If you're on any kind of social media I'm sure you've seen the hashtag #MeToo.
She then explained the origin of the campaign and broke down how many millions of people have jumped on board.
I applaud them all. I think it's brave. I think it's important to speak out and not be shamed by anyone. It is not always easy, but we have to do that. That is why I posted and I will say it right now out loud — me too.
Ellen continued,
This is not a male thing or a female thing. It is not a Hollywood thing or a political thing. This is a human thing. And it happens in the workplace, it happens in families, it happens all over the world, and we are all the same. We all want the same thing — we want respect and love and kindness. And if I could have those three things — and a new iPhone 10 — I would be complete...
She also spoke on how this kind of behavior and societal norm starts when we are young.
She said,
From a young age, girls are taught to stay quiet and be nice while boys are stronger and somehow, [girls] are less than. That is why it is hard for us to speak out. And even when we do speak out, people don't believe us. But there is power in numbers, and good for us. Good for everyone speaking out. I want to say thank you to everybody for speaking out.
She even touches on the complexities of navigating something like this online, and applauds everyone's efforts to do the right thing.
Women and even some men are sharing their stories on Facebook and Twitter — some of them for the first time. And people are 'liking' or 'thumbs upping' or 'hearting' the post. And it's hard to know which is the right response. Is it a crying face emoji, 'cause I'm sad that that happened to you? Or is it a smiley face to say, 'Good for you for speaking out?' I'm not sure about the etiquette, but I do know that hell hath no fury like a woman with a Twitter account...
... As hard as this is to talk about, at least we are talking about it. It's not like this is a new thing; it has been going on forever.
For any survivors of sexual assault or harassment who are looking to share or get involved with #MeToo, you can share your personal stories with people you feel safe with, or simply post the hashtag on your social media accounts.
Together, we are louder. Together, we are stronger.
Check out the entire Gen Why series and other videos on Facebook and the Bustle app across Apple TV, Roku, and Amazon Fire TV.