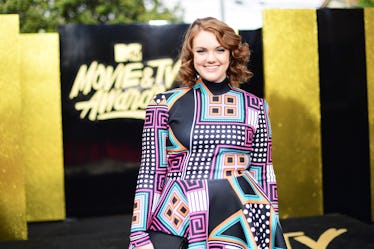 The Actress Who Played Barb On 'Stranger Things' Got The Sweetest Message At Starbucks
Matt Winkelmeyer/Getty Images Entertainment/Getty Images
While Netflix's smash Stranger Things became an instant-hit creating huge fandom all around the world, there was one sour note that lots of viewers couldn't get over: Barb's cruel fate halfway through season 1. Barb may be gone forever, but we're still holding on tightly (and will never let go #justiceforbarb). Need proof? Just take a look at Shannon Purser's Starbucks cup for Barb. Apparently her barista is in the club.
On Wednesday, Feb. 7, Purser tweeted a photo of her Starbucks cup, and scribbled on it was, "Barb deserved better." I can't even. The Twitterverse was obviously ecstatic and found a kindred spirit in that lovely barista (is there an award we can give that Starbucks employee?), and the tweet racked up over 100,000 likes almost immediately. Because Barb did deserve better.
In the biggest upset of a nearly-perfect series, Barb was abandoned poolside when her best friend, Nancy Wheeler (played by Natalia Dyer) ditched her to play tonsil hockey with the Hair, I mean Steve Harrington (Joe Keery). Barb got sucked into the Upside Down, despite her calls for help, and didn't turn up again until the end of the season when they found out she got killed by the Demogorgon. RIP Barb.
Fans hoped that Barb might somehow miraculously return in season 2, but of course not even hopes, wishes, and hashtags can bring a beloved character back from the dead. Though Barb isn't back, she's still very present in the second season of Stranger Things. While her parents are still investigating her disappearance (they don't know about the Upside Down), the guilt of it all takes a toll on Nancy, as it should. Be a better friend, Nancy!
To top that off, not only did Barb not return, but the series killed off another fan-favorite, Bob (Sean Astin). Bob stole our hearts as Joyce Beyer's (Winona Ryder) geeky and adorable boyfriend. In an effort to save everyone else, Bob sacrifices himself and gets violently and horrifically eaten by some Demodogs. What are you doing to us, Duffer Brothers?
Hopefully, the next season of Stranger Things won't introduce us to another awesome character only to have them stripped away from us at our highest point of adoration.
Netflix renewed Stranger Things for a third season on Dec. 1, 2017, but we still don't know when the new season will drop. The first season premiered in July 2016, while the second hit Netflix in October 2017. So it looks like somewhere either late 2018 or early 2019. "If we could make it [return] faster, then we would," executive producer Shawn Levy told Glamour. "But we're going to make it well. We're going to do it right."
Though we still have to wait a while, the Duffer Brothers and Levy have the season planned out quite a bit. "The number of episodes will be dictated by the amount of story that excites us," Levy told Glamour. "We now know what is going to happen in season three to every character."
They might have killed off Bob last season but they did give us the adorable Dustin (Gaten Matarazzo) and Steve friendship which we didn't know we needed, but could never live without. Levy confirmed that we will definitely have some more of that. He said,
In season two, it was all very cute and there was a funny factor to it because it was unexpected, but now that it is expected, I want to see them connect more and be more familiar with each other. I want them to have a connection like they've really had a connection for a year— like they're brothers.
Yes. Yes. I am here for that.
I'll still never forgive the Duffer Brothers and Levy for what they have done to Barb, and Bob, but at least there's still more exciting things for us to hold onto (and not leave by pools) in the coming season of Stranger Things. But still, Barb deserved better.