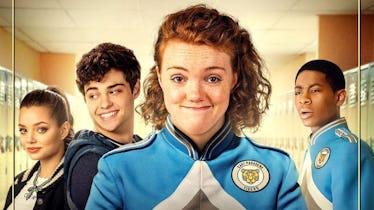 Shannon Purser Explains Why 'Sierra Burgess Is A Loser' Isn't The Fluffy Rom-Com You Expected
Netflix
Sierra Burgess Is A Loser hit Netflix on Sept. 7, culminating the streaming service's unofficial Summer of Original Rom-Coms. Following The Kissing Booth, To All The Boys I've Loved Before, Like Father, and Alex Strangelove, fans were ready to binge Sierra Burgess as soon as possible — and not strictly because of Noah Centineo's shirtless scene. While the film ultimately lacked the fluffy qualities many fans were expecting, its overarching message fits into the modern landscape of romantic comedies. And the movie's titular star, Stranger Things' Shannon Purser, hopes that's part of what fans take away from Sierra Burgess Is A Loser.
Spoiler Warning: This post will discuss the plot of Sierra Burgess Is A Loser.
The Netflix original tells the story of Sierra Burgess, an insecure marching band member (Purser), who stumbles into a catfishing cyber relationship with Jamey (Centineo), the sensitive football star. Jamey *plot twist* thinks it's the school's popular mean girl, Veronica (Kristine Froseth), on the other end. Through the trickery, Jamey ends up falling in love with the real Sierra, and the two share a romantic kiss at the end.
"It's interesting," Purser tells me in an exclusive interview for Elite Daily. "I think some of the confusion that comes with that movie is that people expect it to be some light-hearted, fluffy thing and then there are some very serious thematic elements. While I do want [teenagers] to have things that feel good and are light-hearted, like To All The Boys I've Loved Before, I think they are also capable of understanding nuance and sort of pondering ethical dilemmas, and I hope that it's a tool that's used for learning for the next generation."
Purser reveals that she was "on the fence" about the role at first, saying, "It was just like anything that I had ever done before, and Sierra isn't always a likable character."
In a twist of events toward the end of the film, Sierra hacks Veronica's Instagram and shares a slut-shaming post as revenge. Before making amends, this transformed the quirky Sierra into a vengeful villain.
Purser says, "I think in the end, I sort of realized that this is a reality, that these are people that I've encountered in real life. A lot of the negativity that I receive on social media comes from young women. So I was interested in what inspires someone to act in that manner. What are the insecurities and fears that sort of propel someone to hide themselves or to change themselves? So I was interested in that type of character study."
I think it's really a message of authenticity.
Sierra is a layered character and she doesn't always have the audience rooting for her. However, this complexity adds to the film's big takeaway message. Purser explains, "I think it's really a message of authenticity. Society places such pressure to not only conform to an ideal that isn't always realistic, but also for women to compete with each other and to be constantly comparing themselves to each other. That is really an overwhelming amount of pressure for a young woman, especially as they're growing up and maturing."
Leaving fans and critics with a final message, Purser says, "I just hope that people who watch it will understand that even though it's difficult to be honest and vulnerable, the most fulfilling relationships come from when you are willing to be yourself and accept yourself."
Sierra Burgess Is A Loser is now streaming on Netflix.