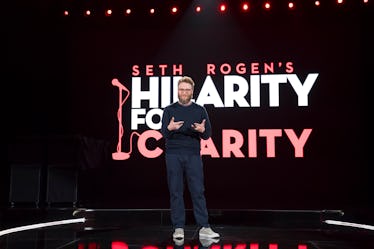 Seth Rogen & Netflix Pulled An Epic April Fool's Day Prank & You Probably Fell For It
Netflix/Greg Gayne
If you spent any time at all on Netflix this weekend (which, let's be honest, you did), you may have noticed a picture of Seth Rogen on your Netflix homepage. "Netflix acquires Seth Rogen," says the title card, which goes on the explain that "Seth Rogen belongs to Netflix, mind, body, and soul." We live in a crazy time of technology, so naturally, I didn't think much of it — until I checked the date. As it turns out, Seth Rogen and Netflix pulled an epic April Fool's Day prank, and I totally fell for it, hook, line, and sinker.
Of course, Netflix didn't actually acquire Seth Rogen as a person (although we're probably not that far off from that happening): it's all an elaborate April Fool's Day prank designed to promote Rogen's upcoming Hilarity For Charity special, a star-studded fundraiser for Alzheimer's awareness. Seth Rogen's Hilarity For Charity will be available to stream on April 6, so Netflix and Rogen used April Fool's Day as an opportunity to do a little pre-promotion. And boy, did they commit to the joke. In addition to the title card on the Netflix homepage, the streaming platform issued a press release about the "acquisition" and posted a video of Rogen reading his new contract.
"I, Seth Rogen, do hereby relinquish all ownership of mind and body to the entity known as 'Netflix Inc.' (Hereby referred to as 'Seth's owners.')," he reads. But Rogen should have read the contract a little closer before signing it, because it includes clauses that give Netflix "the ability to frame [him] for murder and rights to film a docuseries about that murder and biopic starring John Goodman." Netflix also has the ability to change Rogen's name at any point in his life, and while Rogen questions this, he ultimately agrees. "If it worked for Adam Sandler, it will work for me, I guess, right?" he tells the Netflix rep.
Netflix could have left their April Fool's Day prank at this — and I still would have bought it — but instead, they doubled down and issued a press release like they would for any show or movie announcement. "World-renowned Canadian person, prolific marijuana-doer, and winner of the 2015 MTV Movie Award for 'Best Kiss' Seth Q. Rogen has entered into a lifetime deal to transfer full ownership of his personal autonomy to Netflix, Inc.," reads the release. After Netflix's senior development executive Jareth Chumley explained the origins of the deal, Rogen gave his side of the story:
"As a general rule, I don't really 'read' anything before I sign it," replied Rogen when asked about the deal, spilling some beer on his own head as he does the finger-symbol equivalent of air quotes. "That's what Danny is for, he handles that for me, mostly," gesturing toward an elderly man in a poncho sleeping on the couch behind him.
The press release goes on to explain that Seth Rogen's Hilarity For Charity is "the first project where Netflix was able to successfully extract comedy directly from the actor's mind," but there are many projects currently in the works. "Netflix is considering a live-action Shrek remake, starring Rogen as both the titular character, as well as that character's love interest Fiona," it reads. Honestly, it's too bad that this is fake, because that sounds kind of... awesome?
As if the streaming platform didn't take the joke far enough, Netflix posted a second video on April Fool's Day, this time advertising their new "Rogen-Track Technology." Gone are the days of traditional studio laugh tracks — Netflix's new Rogen-Track Technology will add the actor's recognizable belly laugh into scenes of your favorite shows. Those Friends reruns needed something a little different, right?
Netflix's videos and press release are so hilarious that I have to imagine Rogen had a big role in writing them (otherwise, you have a comedic genius on your hands, Netflix). Really, this entire campaign is super clever. I had no idea that Seth Rogen's Hilarity For Charity was coming to Netflix on April 6, and now I can't wait. The comedy special will feature all-star comics like Tiffany Haddish, John Mulaney, Kumail Nanjiani, and Sarah Silverman raising money for a good cause, so even if you're still salty that Netflix got you good, you should definitely check it out.