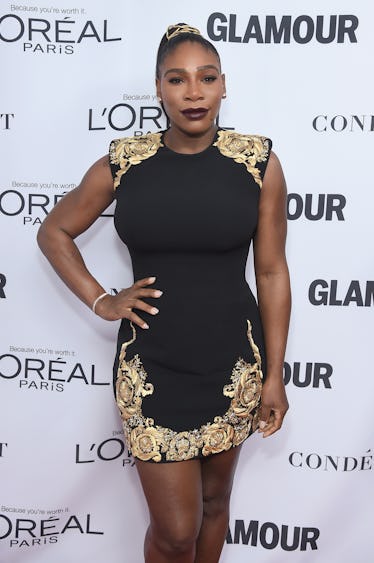 Serena Williams Apparently Ran The Beer Pong Table At The Royal Wedding & I Have FOMO - UPDATE
Jamie McCarthy/Getty Images Entertainment/Getty Images
So, let's say you're one of the world's greatest athletes. You're also a new mom. And you've also been invited to the royal wedding to celebrate the union of Prince Harry, Duke of Sussex, and Meghan Markle, Duchess of Sussex. You'd want to just have a bit of fun, right? I mean, you work hard and you've got a little one at home. Who wouldn't want to cut loose? Well, that's exactly what Serena Williams did at the royal wedding reception. The famed athlete, whose tennis moves wow just about everyone, went to the royal wedding reception and became the life of the party. How did she do it? Beer pong. Yes, Serena Williams won beer pong at the royal wedding reception!
UPDATE: According to The Daily Mail, Williams told multiple outlets during the French Open that she did not play beer pong at the royal wedding.
The wedding and reception took place just a few days ago on Saturday, May 19. And while details of the after party have been scarce, they're finally coming to light. The wedding reception took place at Windsor Castle's Frogmore House and, according to The Sun, Williams came out on top while playing a game of beer pong.
A source with close ties to the reception explained that Williams is as good at playing beer pong as she is at playing tennis:
Sere­na Williams played beer pong like it was tennis. Everyone had so much fun with it, there were even fireworks.
Hm, sounds like a great time was had by all, especially Williams! Wish I'd been there.
The source also explained that the reception was filled with all sorts of unexpected shenanigans, like a dance-off among Prince Harry, Prince Charles, and Prince William. The whole charade was apparently started by comedian James Corden:
James ­Corden did his best to entertain and it went down an absolute treat. He even compered a dance-off between Harry, Charles and William. Everyone was laughing because it's something no one expected. Meghan and her mum also joined in. Then everyone danced, which really kicked off the party.
A dance-off between all three princes? Now, that's a sight I'd like to see. It totally defies the public perception of them and really highlights their humanity (and humility). Love it!
Williams and Corden weren't the only famous faces to attend the wedding and reception. Oprah, Idris Elba, the cast of Suits, Elton John, David and Victoria Beckham, and Markle's good friend Priyanka Chopra all attended.
So, what else went down at the royal reception besides beer pong and a prince dance-off? Well, for starters, George Clooney got in a few minutes of dance time with Meghan Markle and Kate Middleton. At least, according to The Sun.
There was also a slew of food and drink choices provided by Clare Smyth, who is Britain's top chef. She's also the first woman to garner three Michelin stars. The Sun's unnamed insider outlined the dinner guest's food choices:
There was a glass marquee for the dinner, festival-themed stalls and bars outside, with different themed drinks. There were burger bar stalls, whiskey bars, candy floss, games to play, acts performing and a DJ with a dance floor. There was a gin vermouth cocktail created for Charles and Camilla, who are both massive gin fans apparently.
Wow, that is truly incredible! A little something for everyone, I suppose, which is very thoughtful. The Sun also reported that guests were presented with a special cocktail called "When Harry Met Meghan". The unique cocktail was a rum-based drink with a bit of ginger ale. Too cute!
I love that Harry and Meghan had a bit of a sense of humor about it all. They seem like such humble, good-natured people. And their wedding and reception really showed the world just that!