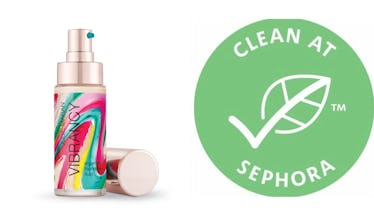 Sephora Just Opened A Clean Beauty Section In-Store & Online, So Shopping Has Never Been Easier
Sephora
If you're someone who is a stickler about looking at product labels to make sure they're free of uber harmful ingredients then Sephora's Clean Beauty section is about to make your Friday even better. Starting today, the retailer will have a dedicated space both online and in-stores where customers can shop 2,000 products across skincare, hair, fragrance, and makeup that are guaranteed to be formulated without ingredients such as Sulfates SLS and SLES, Parabens, Formaldehydes, Phthalates, Oxybenzone, Hydroquinone, Triclosan, Mineral Oils and more. Conscious beauty shopping just got a whole lot easier and I couldn't be more stoked.
As described by Sephora in a press release, "With Clean Beauty, Sephora North America seeks to help clients interested in the topic to find the right products and services that meet their personal beauty needs – no matter what they may be." The brand reported that more than 60 percent of women read beauty product labels prior to purchase, with 54 percent claiming it's important that their skincare products "have a point of view on clean." In other words, the majority of women care about making sure the products they put on their body every single day are actually safe — why wasn't this launched sooner?!
My sister is a huge supporter of all things natural—she lives in a remote town in North Carolina and grows and raises a ton of her own food. She also makes the majority of her (admittedly few) beauty products with natural ingredients like beeswax, charcoal, vinegar, and essential oils and has some of the thickest hair and clearest, dewiest skin I've ever seen. Of course, more important than the aesthetic benefits of clean beauty are the health benefits. Some of the harmful ingredients mentioned above have been linked to various forms of cancer, thyroid problems, asthma and more. If you think about it, the idea that we voluntarily put them on our own bodies is kind of crazy, right?
The products within Sephora's new section will each be marked with a special "Clean at Sephora" seal and will be sourced from over 50 brands. Favorites include Drunk Elephant, Josie Maran, Tata Harper, RMS, Boscia, KORA Organics, and more. It's also important to note that fragrance brands will be included within the space and along with the harmful ingredients above, they're guaranteed to be free of an additional 20 ingredients including Acetone, Toluene, Styrene, and more. I'd never even considered that my daily spritz of perfume could be harmful to my body in any way—this is enlightening!
"This initiative was first and foremost inspired by our clients and the very apparent opportunity for Sephora to come in as an educational resource to those looking for help navigating the vast and growing world of clean beauty," Artemis Patrick, Chief Merchandising Officer at Sephora, said in the press release. "Together with our brands, industry experts, external council – as well as feedback from our clients – we've sought to help demystify the category and bring clarity to those clients who desire more transparency in beauty, particularly in the ingredients they might like to avoid. It's not about a line in the sand, for us it is about being transparent and providing brand options that deliver results. While this isn't necessarily a new idea, it is most certainly relevant for our clients and is a starting point in an exciting and fast moving innovative category."
I, for one plan on exclusively shopping within the new Clean Beauty section whenever I pay a visit to Sephora. The brand has made it so easy to be better to my body, and hopefully, this is just the beginning of a huge beauty industry revolution.