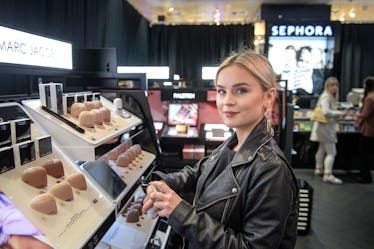 Sephora x RetailMeNot's Surprise Sale Is Seriously Good — But It Only Lasts 24 Hours
Thomas Lohnes/Getty Images Entertainment/Getty Images
I can confidently say that Mondays are, by popular opinion, the worst day of the week. I actually love my job, but that doesn't mean I don't lament the ending of each weekend. But Sephora x RetailMeNot's surprise sale is here to make this upcoming Monday, June 25, a whole lot more palatable. Let's get to the details: This surprise offer will go live at 12:01 am CST on the 25th and will only last for 24 hours, so make sure to mark a beauty shopping spree on your calendar for Monday to ensure you don't miss it.
RetailMeNot has teamed up with Sephora to offer $15 cash back when you spend $30 or more online at Sephora online, meaning you'll essentially be getting half off of your order if you're able to restrain yourself to a $30 purchase. (This is unlikely, unless you have the self-restraint of a mystical being.) All you have to do is go to this link and hit the "Get Reward" button, then continue to Sephora's site and start filling up your cart. If you don't already have a RetailMeNot account, then you'll need to sign up for one in order to get the offer. Seeing as the site posts new, incredible deals on fashion items, home goods, food, electronics, and more daily, it's a good one to have an account with.
In regard to the cash back reward of $15, it will be redeemed in your RetailMeNot wallet 15-20 days from your purchase date and will be paid back to you via PayPal.
Seeing as Sephora rarely has site-wide sales (they offer sale items 365 days a year, but it's a small selection compared to their entire inventory), this deal is one you absolutely won't want to miss. If you've been thinking of buying anything from the retailer soon, make sure you do it on Monday.
In preparation for my own personal beginning-of-the-week spree, I picked out the five items I'll be considering adding to my cart. What will you shop to hit the $30 minimum?
Glow Up
The second Rihanna's Fenty summer makeup tutorial went up on Vogue.com, I was lusting after her highlighter duos. My personal taste draws me to this rose and periwinkle combo, but the fuchsia and orange pair are pretty awesome, too. They're the perfect way to add some vivid saturation to any summer beauty look and look like a total island goddess.
Quench Your Thirst
As a product within Sephora's new Clean Beauty section, this mask is guaranteed to be free of many various chemicals and ingredients, including Sulfates SLS and SLES, parabens, formaldehydes, formaldehyde-releasing agents, phthalates, mineral oil, retinyl palmitate, oxybenzone, coal tar, hydroquinone, triclosan, and triclocarban. In other words, it doesn't contain a bevy of things that could potentially harm your health. What this mask does contain is red algae, hyaluronic acid, cucumber, and chamomile, which work together to make skin hydrated, refreshed, and soothed.
Good Scents
I am a sucker for nice fragrances, but seeing as they typically cost an arm and a leg, I often opt for more generic brands. I am not hating on cheaper perfume, but if I get the chance to snag some name-brand fragrances, you bet I'm going to take it! This sampler set contains 17 different offerings by brands including Chloé, Marc Jacobs, and Yves Saint Laurent, and with the $15 cash back offer, this'll only cost you $50. It's a steal.
It's Palatable
This just-released Urban Decay Born to Run palette boasts bright and summery hues in matte and metallic finishes, alike. These 21 shades are all I'll need for endless knockout beauty looks.
The Daily Rhind
Both of the infamously awesome GLOW watermelon products in one super cute set? Sold! It includes the Watermelon Glow Pink Juice Moisturizer and the Watermelon Glow Sleeping Mask, which both ensure you'll get your most hydrated, brightened, and nourished skin ever. Try not to eat them.