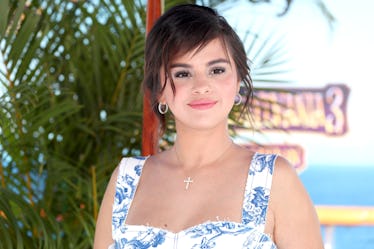 Selena Gomez Got These Sweet Matching Tattoos With Her BFFs For The Best Reason
Christopher Polk/Getty Images Entertainment/Getty Images
The heart wants what it wants, and in Selena Gomez's case, that would be her BFFs. Months after the "Fetish" songstress broke things off with on-again, off-again beau Justin Bieber, she is fittingly paying homage to lifelong relationships with a message literally written in ink. On Saturday, Aug. 18, Selena Gomez showed off new tattoos with her besties, and her moving #FriendshipGoals tribute shows that she has so much love for her girls.
On Friday night, the singer helped ring in her childhood friend Courtney Barry's 26th birthday with fellow gal pals Ashley Cook and Raquelle Stevens — along with plenty of carbs, ice cream, and love (aka the best recipe for a girls' night). While enjoying their chill girls' night out, the "family dinner turned wild" as all four ladies spontaneously decided to head to the tattoo parlor in hopes of getting matching ink to commemorate their friendship. Luckily, the star let her fans in on the fun by sharing the whole thing on social media.
The "Back To You" hitmaker took to Instagram on Saturday to post photos of the lasting symbol of her friendships — the number four and the number one — as well as a heartfelt message that's an ode to lifelong besties. After sharing a photo slideshow of the birthday shenanigans, which she captioned, "My best friend turned 26. Part one," the musician posted photos of the ladies getting inked at the tattoo parlor, along with an explanation of why she chose the number four.
Gomez wrote:
Best friend turned 26. Part 2 #4 because these women have stayed by my side for 7 years (@ashley_cook 12 years) 4, because you are my 4 for the rest of my life. I love you ladies. You all inspire me to be better, stronger, closer to god and we have lived the most INSANE story together already. Can't wait for 50 more!! Ps @raquellestevens had an actual panic attack 🙄 it's a dot!
Is it just me, or are you also getting major Sisterhood of the Traveling Pants vibes?
Next, Gomez showed that she'd made her friendship with "#1" Courtney Barry a little more permanent by having the number "1" inked on their ribs. Honestly, it's BFF goals, and I'm shook.
"And lastly, my actual #1@courtneyjbarry you are an incredible woman," she wrote. "The way you handle life's most confusing moments is indescribable and graceful."
The 26-year-old continued, "You are moved by the littlest stories to the most heartbreaking ones, you will give someone your perfume if they say you smell nice, you are freaking hilarious and always stand firm in your faith, a loving sister, an amazing friend and a beautiful daughter. You are the definition of FEARFULLY and WONDERFULLY made baby! #1."
From the looks of it, it's safe to say that the Disney alum is living her best life, and it's reflected in how she now views love and relationships.
According to Entertainment Tonight, an insider explained to the publication where her head is at. "[Selena's] been in a relationship for so much of her life, she really is happy embracing the single life and focusing 100 percent on herself," the source said. "She looks at relationships differently now -- she isn't looking for someone to 'complete' her."
While Gomez doesn't need anyone to "complete" her, it's clear from this BFF birthday celebration that her friends will be there for her no matter what life throws her way.