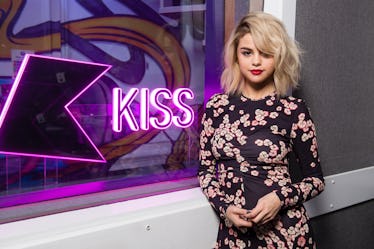 Selena Gomez Is Joining A Star-Studded Her Cast For Her Next Movie & We're Pumped
Jeff Spicer/Getty Images Entertainment/Getty Images
While most of 2017 focused on Selena Gomez's new album, her relationships, and her family, 2018 is going to be all about the big screen projects. She's already signed on for the third Hotel Transylvania cartoon, where she'll be doing voiceover work. In films that give starlets "serious acting cred," she's working on Woody Allen's A Rainy Day in New York. (Well, used to give them "serious acting cred," anyway.) Now, her team has announced Selena Gomez will join The Voyage Of Doctor Doolittle, a film that's already got an all-star, A-list cast.
The film, which is being produced by Universal Pictures, was announced as underway almost a full year ago, with Robert Downey Jr. signed on in the title role. Since then, it's turned into a who's-who of the sorts of people Downey likes to work with, almost as if he turned in a list to see who would agree to join him. There's his buddy Tom Holland from Spider-Man, there's Emma Thompson and Ralph Fiennes from Harry Potter, and those are just the ones doing voice work along with Gomez.
Live action actors include Antonio Banderas and Michael Sheen. Banderas will be playing Doolittle's nemesis, the pirate Rassouli, while Sheen plays a character named Mudfly.
This is the third time that Hollywood has turned to Doctor Doolittle for movie inspiration. The original musical, which starred Rex Harrison in the title role, came out back in 1967 and took home a slew of Oscar nominations, winning for Best Original Song and Best Visual Effects. (The latter of which is saying something, since this was in a time before computer animation.) Eddie Murphy revived the franchise (and his career) in 1998 with a remake that was so popular it went on to spawn a sequel in 2001.
The character is originally from a series of children's books that were published in the 1920s. Written by Hugh Lofting, Dr. Doolittle was originally a British Victorian-era physician who decided to treat animals instead of people because of his ability to talk with them. It took place in the fictional village of Puddleby-on-the-Marsh.
The 1967 version was a period piece, while the 1998 one set the characters in modern times. It is not yet clear if this version will be set in the 1800s or not. Downey is known for his popular period portrayal of Sherlock Holmes. With Holland, Thompson, and Fiennes all having British accents, and Banderas playing a pirate, the plan could be to set it in Victorian England. If so, Gomez better start practicing her British vowels.
According to People Magazine, this move from pop music to the silver screen is coming at the right time for Gomez.
Having done this since I was seven, it's probably the most comfortable I've ever felt. Even in auditions, I feel like I'm way more confident than I would've been in the past. I'm not focused on the things that I used to be like, 'Do I look old enough? Do I look sexy enough? Do I look cool enough? Am I nice enough, graceful enough?' Those sorts of things would come into my mind, but now I feel a little more liberated.
In terms of having different types of films in the pipeline, this also scores a hat trick for Gomez. A Rainy Day in New York will most likely screen at film festivals and put her on track for the usual awards campaign schedule. Hotel Transylvania is a family-friendly type fare that will bring in the eyeballs of the Nickelodeon-aged set. And now, adding The Voyage Of Doctor Doolittle gives her a PG-13 level film that will most likely receive a marketing campaign on par for Iron Man or another blockbuster-type fare.
The Voyage Of Doctor Doolittle is currently slated to arrive in theaters everywhere on April 12, 2019.