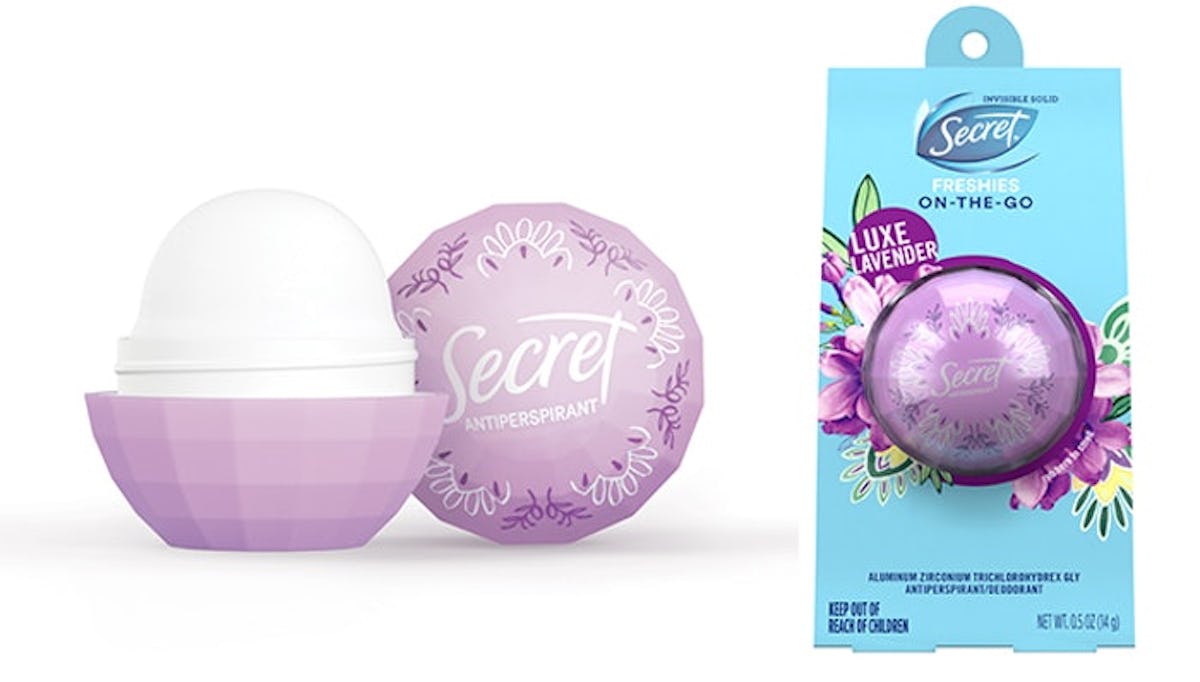 This $5 Mini Deodorant Looks Like Your Fave Lip Balm & It's Low-key Genius
Secret
Have you ever been going about your day and suddenly, you think to yourself, did I put on deodorant this morning? Thanks to Secret's Freshies Mini Deodorant, you won't have to internalize that panic attack that we all know too well. You try to replay every step of your morning but you just can't remember if you broke out the antiperspirant — and the more you think about it, the more you feel like you need it. Now, for the rest of the day, you're doing everything in your power to not lift your arms and pray that nobody gets too close. Why go through life walking around like a T. rex when you can just be prepared?
While stashing a personal arsenal of products in your bag can get you out of a jam (have you ever spotted an ex from afar and reached into your bag for anything that can make you look more put together?), there's not always room for everything you need. And while smelling fresh ranks high on our list of priorities, carrying around a stick of deodorant isn't exactly the sexiest thing you can keep in your purse. Aside from it being bulky, keeping it within arm's reach implies that we have a problem with B.O.
If only there was a deodorant that was compact, cute and didn't actually look like a deodorant when we throw it in our purse.
Travel-sized deodorant isn't exacly a new concept. You know the type: It looks exactly like the full-size version, just smaller and cuter. And I say cuter because I'm obsessed with mini beauty products, but make no mistake, it still screams "look at me, I need all the help I can get to smell good." Thankfully, Secret thought of everything when repackaging their new on-the-go version of their classic antiperspirant in four fresh scents.
Here's where things get really good: It looks like your favorite egg-shaped lip balm! And similar to that product, this new deodorant fits literally anywhere. How many times have you tried squeezing a stick into your tiny clutch for a night out? It even makes that awkward walk from your desk to the office bathroom (deodorant in hand) for a mid-day refresh feel less embarrassing. From now on, your co-workers will just think you really love lip balm. Just don't accidentally switch the two — you'll either end up with really moisturized armpits or a really bad taste in your mouth. Oh, and did I mention that the top screws on and off? While this might not seem super groundbreaking for lip-balm packaging, it's actually a game changer in the deodorant department.
On more than one occasion (when I really wanted to be prepared for the day ahead), I've packed a stick in my bag, but when it came time to grab it, the cap had popped off and left chunks of deodorant splattered all over my bag. The days of white residue living at the bottom of your bag, all in the name of freshness are behind us! Yasss!
Available in Cool Waterlily, Luxe Lavender, Paris Rose and Chill Ocean, Secret's Freshies Mini Deodorants smell just as good as they look. And they won't break the bank either. Each will only cost you $5 — but I think we can all agree having full range of motion of your arms is priceless. The only downfall is you have to wait until March to get super fresh on the go. The good news is though that once you get your hands on this adorable antiperspirant, you'll be able to apply it anywhere, any time.