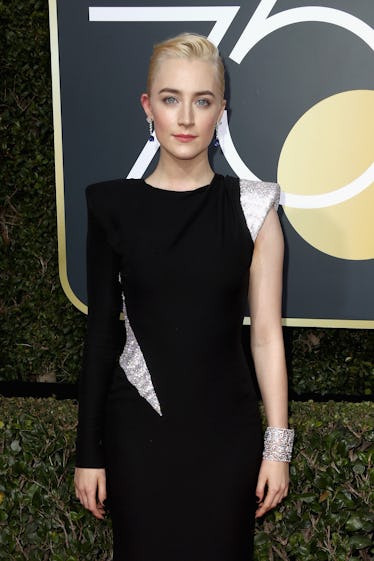 Saoirse Ronan Just Won A Golden Globe For 'Lady Bird' & We're So, So Happy
Frederick M. Brown/Getty Images Entertainment/Getty Images
One of the most unpredictable categories at this year's Golden Globes ceremony was the Best Actress in a Musical or Comedy Movie award. The category ran the gamut from young breakouts to established dames, with a handful of biopics mixed in with captivating original characters. Some nominees already have a couple Golden Globes on the mantle at home, and others had yet to win one. These sprawling differences are what made the race so interesting, and in the end, it was Saoirse Ronan who won the Best Actress in a Musical or Comedy Golden Globe, for her standout performance in Lady Bird.
Saoirse Ronan's win is even more exciting for her because it is her first ever Golden Globe win, and it is also incredible when you consider the wild amount of talent she was up against in the Best Actress in a Musical or Comedy Movie category. Judi Dench was nominated for playing Queen Victoria in Victoria & Abdul, and it would have been her third Golden Globe had she won. And then, of course, there was also Helen Mirren, who would have nabbed her second Golden Globe for her performance as Ella in the road trip dramedy The Leisure Seeker. Some of the buzziest performances of the year were those of Margot Robbie, Emma Stone, and the Golden Globe winner Saoirse Ronan. Robbie and Stone both channeled famous, groundbreaking athletes as Tonya Harding and Billie Jean King in I, Tonya and Battle of the Sexes, respectively. And Saoirse Ronan brought the highs and lows of every fed-up high school student to life in Lady Bird. Stone took home her first Golden Globe last year, but Robbie has yet to win one.
Get a clearer idea of the nominees and winner of the category below:
Best Performance by an Actress in a Motion Picture – Musical or Comedy
Judi Dench (Victoria & Abdul)
Margot Robbie (I, Tonya)
Saoirse Ronan (Lady Bird)
Emma Stone (Battle of the Sexes)
Helen Mirren (The Leisure Seeker)
This is Soairse Ronan's first ever Golden Globe win, and her third time being nominated at the annual ceremony. Back in 2011, Ronan was nominated for Best Supporting Actress at the awards for her role in the period film Atonement, and last year, she was nominated for a second time — this time for Best Actress for the drama she helmed, Brooklyn. Ronan lost both of those times, but finally took home her first Golden Globe this year, thanks to Greta Gerwig's funny, sweet, and emotional ode to teenage-dom, 2002, and Sacramento, Lady Bird.
Another exciting thing about this win is that it could lead to a big Oscars win for Saoirse Ronan as well! Ronan was also nominted at the Oscars for Atonement and Brooklyn in past years, but as at the Golden Globes, she lost both Oscars. With her win at the Globes, maybe fans can expect Ronan to finally nab her Oscar on the third try as well.
Although the Golden Globe category has expanded to include both comedy films, as well as musicals, none of the movies represented were musicals. In fact, most of the performances that these actresses were nominated for actually lean much more toward the dramatic end than the comedic. That's not really new to the awards, though — the most recent non-musical winners have been Jennifer Lawrence's dramatic performances in Joy and Silver Linings Playbook and Amy Adams' in Big Eyes and American Hustle. Although Saoirse Ronan's title part in Lady Bird did include humor, it really was much more dramatic than anything else. But still, Ronan took home the Musical or Comedy trophy. Now, let's just hope she can follow it up with an Oscar!