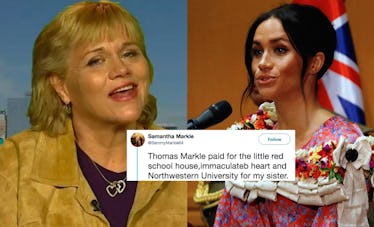 Samantha Markle Just Called Meghan A Liar For Saying She Paid Her Own College Tuition
YouTube/Phil Noble - Pool/Getty Images/Twitter
Welp, that didn't take long! Samantha Markle is back to bashing Meghan Markle, Duchess of Sussex just one week after issuing a public and seemingly genuine apology. For the record, I never doubted for a second that the other shoe was going to drop (and drop fast) after reading Markle's apology to Meghan and Harry, but I'm still upset to be proven right! Following a speech the Duchess of Sussex gave at The University of the South Pacific on Oct. 24, Markle took to Twitter to dispute the claims Meghan made. And Samantha Markle's tweets calling Meghan a liar are just so exhausting.
"As a university graduate, I know the personal feeling of pride and excitement that comes with attending university," Meghan said in her speech. "The journey of higher education is an incredible, impactful, and pivotal one." She then revealed that she paid her way through college (at least in part) at Northwestern University. "I am also fully aware of the challenges of being able to afford this level of schooling for many people around the world — myself included," the duchess said. "It was through scholarships, financial aid programs and work-study where my earnings from a job on campus went directly towards my tuition — that I was able to attend university. And, without question, it was worth every effort."
Kensington Palace tweeted a snippet of her speech, which marked her first official royal speech on her tour through Fiji.
Samantha Markle is now saying that Meghan lied in her speech and that their father, Thomas Markle, paid Meghan's Northwestern tuition.
These tweets are a far different tone from the apology Markle publicly issued to Meghan and Harry just last week.
She said, "Thomas Markle paid for the little red school house,immaculateb [sic] heart and Northwestern University for my sister. Anything that avoids or denies that truth,... is a lie." Markle continued in another tweet, "My sister was able to afford attending the University only because our father paid her tuition completely. There was no scholarship, no grant, or financial aid program involved. The speech was a lie."
She tweeted again in response to another Twitter user, writing, "It takes a lot of audacity, and deceit to lie about something as important as funding of a college education. To take that dignity and joy away from dad is morally unconscionable. He funded her education from day one through northwestern graduation. Fact."
Elite Daily reached out to Kensington Palace about Markle's claims, but did not hear back by the time of publication.
It's entirely possible that Thomas Markle did help pay for Meghan Markle's college tuition, but that doesn't mean that Meghan didn't also help with the finances through the financial aid and work-study programs she mentioned in her speech. That course of action is common among American families who need to alleviate some of the cost of higher education. Elite Daily reached out previously to Kensington Palace for clarification on this issue, but they declined to comment. Even if Thomas Markle did help pay her way through college like Samantha says, given the fact that Meghan spent the whole summer being trashed by her father and sister in interviews, it makes sense that she wouldn't mention him in a speech about her college career.
Just last week, shortly after Kensington Palace announced that Meghan is pregnant with her and Harry's first child, Samantha Markle called for an end to all of the public fighting (albeit entirely one-sided), congratulated her sister and Harry on the baby news, and gave an apology for the summer full of drama.
"I'm so excited, I'm so happy for you," she said in an interview with DailyMailTV. "And I really, really am sorry for any of the past tension and confusion and misunderstandings and asinine things I've said when I just didn't understand what was going on and I wanted things to work out for my dad." She continued, "But this is just a great time for you guys and Meg, I love you. Congratulations to both of you. Let's just let it all go and you two be wonderful happy parents — I'm so happy for both of you."
Now, she's calling her sister a liar and that her actions are "unconscionable." Guess that apology was too good to be true!