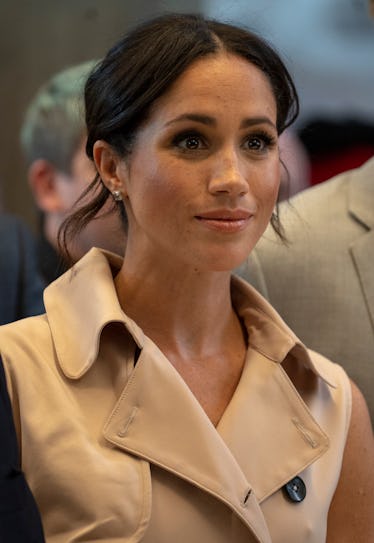 What Meghan Markle's Sister Reportedly Said About Her In A Twitter Rant Crosses A Serious Line
WPA Pool/Getty Images Entertainment/Getty Images
It's no secret that things are pretty tense between Meghan Markle, Duchess of Sussex, and her father, Thomas. The dude has been throwing his daughter under the bus in a bunch of paid interviews over the last few weeks, rambling on about how he has no way of contacting her, how he thinks she is "terrified," and how her smile looks "pained." Tell us how you really feel, Dad! Now Thomas' eldest daughter is inserting herself into all the drama, and Samantha Markle's tweets about Meghan Markle and Thomas Markle are crossing a serious line!
According to The Sun, Meghan's half-sister Samantha blasted the duchess for her behavior toward their father on July 18 in a rant on her Twitter account — and, like, that's totally how I fight with my family, how about you? The biggest takeaway from her tweets is Sam's claim that if Thomas dies, it's all Meghan's fault! OK, wut?! Elite Daily reached out to Samantha Markle's team for clarification on her tweets and to Kensington Palace for comment on her tweets, but both teams declined to comment. And of course, good old sis has set her account to private, so we can't actually see any of her tweets, though there are plenty of screenshots floating around on sites like TMZ.
"My father is not an embarrassment for loving his daughter!" Samantha reportedly wrote. "The Royals are an embarrassment for being so cold. You should be ashamed of yourselves."
She then shared a link to an article about Meghan and Prince Harry making an official appearance at a London exhibition dedicated to Nelson Mandela. "How about you pay tribute to your own father?!" Samantha reportedly added after the link. "Enough is enough. Act like a humanitarian act like a woman! If our father dies I'm holding you responsible, Meg!"
Yikes.
And she apparently didn' stop there. "Glad you have so much time to gallivant around paying tribute to others while ignoring your own father!" she allegedly wrote in another tweet. "How cold can you be and look in the mirror? Harry? I guess I was right."
The Sun also reports that Samantha tweeted out in defense of her father's decision to give all those paid interviews over the last month. "It's pretty sick that there is a need for him to speak out," she wrote. "Might I suggest you shut up! I might I suggest the Royals [act] humanely towards my father."
Uh, you might. But I'd like to point out that Meghan hasn't actually uttered a word publicly about Thomas beyond expressing her desire for him to feel better after the heart surgery that prevented him from walking her down the aisle. So technically, there's nothing to shut up about.
The whole thing is actually pretty embarrassing for Samantha, who comes off as totally unreasonable. Although, I guess I shouldn't really be all that surprised by her tirade. After all, she made it crystal clear in a video for TMZ back in May that Meghan had no right to try and keep her from speaking out.
"If it's about my life or my father's, there's something in this country known as freedom of speech," Samantha explained in the vid. "She doesn't have a copyright on that and she's not gonna tell me that I can't speak about my own life or my father's where it's a matter of public self defense ... This is not Great Britain. I am a United States citizen. And, that's all there is to it. She's way out of her league to tell me that I can't speak."
The drama is real, you guys, and it's intense. Yes, it's super sad that the sisters are estranged. But maybe if Samantha took a breath, stopped being so petty, and advised her father to stop doing paid interviews, there would be a chance for reconciliation.
Then again, maybe not.